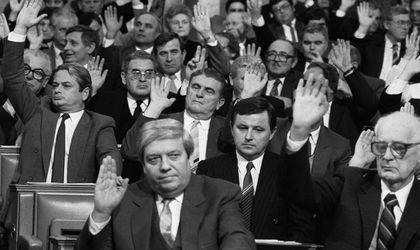 The Czech Centre invites film and history lovers to see a political drama, "1989", on the 25th anniversary of the fall of Berlin wall. This film was screened simultaneously in over 15 European capitals, including Bucharest.
Called a political drama, "1989" is a chronicle of the fall of the Iron Curtain, beginning with the decision of Hungarian Prime Minster Miklos Nemeth to abandon Hungary's extensive and costly border and reopen the gates to the West permanently. Director Anders Ostergaard recreates the events of 1989 and invites the audience into the secret meeting rooms through a mixture of 'testimonials', archive material, recreation, and reconstructed dialogues lip-synch'ed to archive footage of the real political key characters.
English subtitle. Facebook event here. Free entrance. Access from 19:30, seats limited.
Oana Vasiliu