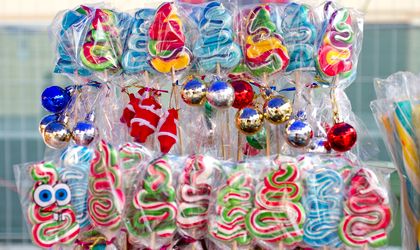 For our readers who find Christmas shopping stressful, but still want to surprise and impress their loved ones with a thoughtful gift, BR is on hand to help you navigate the festive retail maze. Read on for our selection of the best places to pick up Christmas gifts as well as a round-up of musical occasions to help you get into the holiday spirit – or recover from the shopping spree.
By Oana Vasiliu
Christmas fairs
Bucharest Christmas Market
Opened by Bucharest mayor Sorin Oprescu, the city's Christmas Market will run from December 6 until January 6. The market, held above the underground parking lot in Universitate Square, hosts over 60 small stalls with traditional Romanian goodies and other products, as well as Christmas decorations and handmade presents. This year, another two Christmas Markets will take place in Bucharest, at Unirii Square, just in front of Unirii Store, and in Herastrau Park.
Universitate Square, Unirii Square, Herastrau Park.
Sala Dalles
The traditional fair at Sala Dalles will run until Christmas Eve. It takes the form of a small shopping gallery where visitors can find all manner of gifts for loved ones: clothes, toys, jewelry, sweets, organic cosmetic products, Christmas decorations and candles, plus food and beverages, all beautifully wrapped. A cup or similar item engraved with a message can be a personalized present for someone special. 18 Balcescu Blvd.
Charity Christmas Bazaar
Romexpo will host the IWA Winter Bazaar, the International Women's Association's  main fundraising event. The festival sees the many international communities living in Romania come together to celebrate diversity, with nationalities exhibiting their culture, music, dance, costumes, handcrafts, Christmas ornaments, products and cuisines. The one-day event takes place on December 8, from 10.00 to 17.00, with an entrance fee of RON 10. The money raised will go to non-governmental organizations, healthcare centers for the elderly, children's homes, schools, hospitals and associations for the protection of women and children. 65-67 Marasti Blvd.
Christmas Souvenir Fair
The Christmas Gift, Decoration and Souvenir Fair will be held in the C1 Hall of the Romexpo Exhibition Centre on an area of 2,000 square meters. The event will bring together traders from Romania and abroad, manufacturers, distributors and retailers of Christmas decorations, toys, sweets, clothes, footwear and leather goods, as well as jewelry, cosmetics and perfumes.
The fair will run from December 5-8. 65-67 Marasti Blvd.
Christmas Concerts
December 5 – Demis Roussos, Sala Palatului
Ticket prices: RON 50-300
The popular Greek singer returns once again to Bucharest – a town he is said to consider his second home – to the delight of his many local fans, who will enjoy renditions of Ave Maria, White Christmas, Silent Night, Amazing Grace, Dinata Dinata, Goodbye My Love Goodbye and My Friend the Wind, on a festive set list.
December 9 – The Golden Voices of Gospel, Romanian Athenaeum
Ticket prices: RON 100-200
The Golden Voices of Gospel, along with founder and leader Reverend Dwight Robson, will take their Romanian audience on a journey through the breathtaking world of spiritual music, gospel and tradition. The choir's members hail from the Southern States of the US, and sing in a similar style to the music of African-American churches.
December 15 – Christmas Gala Concert with Jose Carreras, Romexpo
Ticket prices: RON 150-650
Spanish tenor Jose Carreras will be back in Bucharest for a third concert. The singer is particularly known for his performances in the operas of Verdi and Puccini. He gained fame with a wider audience as one of The Three Tenors, alongside Placido Domingo and Luciano Pavarotti. This performance will feature White Christmas, O Holy Night and Let It Snow, as well as several other Christmas numbers.
December 15 – Madrigal Choir, Romanian Athenaeum
Ticket prices: RON 150-200
The famous Romanian Madrigal Choir, which has had a place on the universal UNESCO heritage list since 1992, will perform two Christmas concerts on the same day, one at 16.00 and the other at 20.00. A selection of carols that embody the traditional Romanian Christmas spirit will form the basis of an extraordinary concert.
December 18 – Viennese Treat (Regalul Vienez), Palatul National al Copiilor
Ticket prices: RON 130
Iconic waltzes, along with other well-known musical works, will come to life under the baton of legendary conductor Daniel Zakharov, in a passionate and colorful Viennese Treat. The show will feature the vibrant voice of Marina Raddis, First Singer of the National Opera of Chisinau, the Eastern Royal Opera, accompanied by the celebrated accordion player Evgeni Nagruzza, who benefits from copyrights granted personally by Richard Galiano, the world's top accordionist.
December 21 – Viennese Christmas with Edvin Marton, Sala Palatului
Ticket prices: RON 75-260
Edvin Marton is an Emmy Award-winning composer and performer who has captured the hearts of audiences on five continents, and now comes to Romania with the Vienna Strauss Orchestra, for a Viennese Christmas celebration. Featuring singers and ballerinas from the Vienna State Opera, the concert will bring to life the enduring compositions of Johann Strauss and Wolfgang Amadeus Mozart, which have entertained music fans for over 180 years.
December 24 – Divna, Romanian Athenaeum
Ticket prices: RON 200-250
Divna will take to the stage on Christmas Eve with the Melodi choir, which she founded in 1991. The ensemble performs sacred, spiritual and ancient music as well as contemporary choral works.
oana.vasiliu@business-review.ro