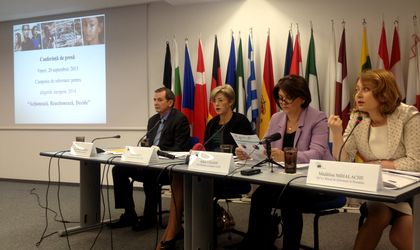 The official run-up to the 2014 European elections starts on September 10, when the European Parliament launches its awareness and information campaign. This campaign will continue beyond the elections themselves, until the newly-elected Parliament in turn elects the next European Commission President. In Romania, the event took place on September 20, in the presence of Marian-Jean Marinescu, Vice-Chair of Group of the European People's Party (Christian Democrats), Corina Cretu, Vice-Chair of Group of the Progressive Alliance of Socialists and Democrats in the European Parliament, Adina Valean, Vice-Chair of Group of the Alliance of Liberals and Democrats for Europe and Madalina Mihalache, Chief officer of the Information Office of European Parliament.
Asked by the journalists if the three MEPs invited at the press conference will participate at the 2014 elections, all of them responded that there wasn't an official discussion in the parties that they represent in European Parliament, but probably the decision will be positive. Moreover, taking into consideration the Romanian tradition of voting on Sundays, probably the election day for the European Parliament will be set on May 25. Also, none of the speakers could present the party's candidate for the presidency of European Parliament.
Regarding the costs of this elections campaign, Madalina Mihalache pointed that it will cost only EUR 16 millions for all European Union, meaning that 0.038 EUR will be spent for every citizen that is allowed to vote.
Moreover, Corina Cretu noted that this election campaign should resolve the problem of the image of Romanians and Bulgarians through UE, while some of the MEPs already pointed negative opinions about the working permits that will be available from January 2014.
Most laws now originate at EU level, which makes the European Parliament at least as powerful as any national one. Voters therefore need to know what decisions are taken in "Brussels" (or Strasbourg) and how they can influence those decisions.
The campaign will have four phases. Phase one starts now, with the presentation of the baseline ACT.REACT.IMPACT. This phase aims to explain the European Parliament's new powers and their implications for people living in the EU.
Phase two, from October to February 2014, will highlight five key topics – the economy, jobs, quality of life, money and the EU in the world – at a series of interactive events in European cities.
Phase three, the election campaign proper, starts in February. It will focus on the 22-25 May election dates. These dates will be added to the logo as the elections draw near.
After the elections, the final phase will focus on the newly-elected European Parliament, its election of the next European Commission President and the inauguration of the new Commission.
The logo with the baseline ACT.REACT.IMPACT. stresses that EU voters can exercise their power, through the ballot box, to determine the future shape of Europe.
Oana Vasiliu