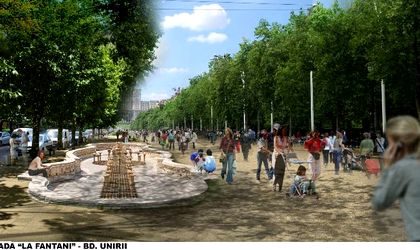 Bucharest's chief architect, Gheorghe Patrascu, will present an integrated urban development plan for downtown Bucharest worth EUR 200 million on June 3 during LAUD, the first event dedicated to urban public spaces and green spaces to be held in Romania.
The project is entitled 'Bucharest, the city of tomorrow' and its objectives are "to rehabilitate public spaces by creating friendly and dynamic spaces with a high quality design and suitable for walking, relaxing and socializing; to rehabilitate downtown's urban landscape which has been torn up by the 'civic center operation' during Nicolae Ceausescu's time; to create a network of streets that would cross the city's center and where pedestrians and bikers would have priority; to rehabilitate several historic monuments such as the Stavropoleos Inn catacombs and Curtea Veche; the construction of parking places and two pedestrian crossings in the areas of Izvor and the Bucharest Court," said Patrascu, adding that the project could also feature a esplanade behind the Parliament's Palace.
Several landscape architecture projects from Europe and Asia will be presented during the same event. These will include Place de la Republique in Paris, FengmingMountainPark from Chongqing and Sowwah Square in Abu Dhabi, all projects belonging to the Martha Schwartz Partners architecture firm.
LAUD will be held at Athenee Palace Hilton Bucharest of June 3.
Simona Bazavan