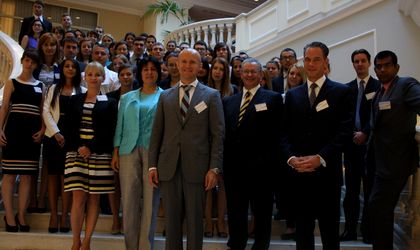 After finishing the Assurance practice, Ernst&Young (EY) Romania announces that 47 new graduates have joined the company, thus the total number of the employees reaching 495 people. Approximately 60% of the new employees have joined the practice program, while the rest of them are now part of the Tax & Legal, Transactions and Advisory departments.
Over 2000 of students from Bucharest, Cluj-Napoca, Iaşi, Timişoara and Oradea, applied this year to recruitment process that consisted of written evaluations and interviews with EY's HR specialists and managers. What counted the most were candidates' verbal, logical and numerical skills, well-written and spoken English, specialty knowledge, as well as candidates' compatibility with EY's organizational culture.
 "The recruitment of the 47 new joiners is only the first step of their career at EY. They will start as juniors and can progress, with the experience the various assignments will offer them and the knowledge they will accumulate during the training programs, to a senior consultant, manager, senior manager and even a partner level. These new junior colleagues will become part of the strong EY team that we have at the local and global level, whose success is first of all based on the combination between the remarkable talent, experience and motivation of our people", says Bogdan Ion, Country Managing Partner, EY Romania.
According to the official press release, every year EY invests approximately 3000 EUR/employee for training. This investment reflects the exceptional results that the young EY experts obtain during the exam sessions they sit in for different international certifications, such as: ACCA, ICAEW Chartered Accountant (ACA), Charted Financial Analyst (CFA) and Advanced Diploma in International Taxation (ADIT).
Oana Vasiliu