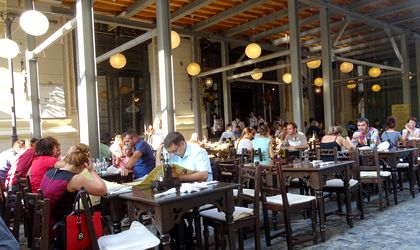 After the 2013 George Enescu Festival brought 20,000 foreign tourists to the capital, local hotels and restaurants are hoping for at least a similar number of visitors in 2015.
Simona Bazavan
"The Enescu Festival is the most important event organized this year in Bucharest. The scale it has reached makes it surpass by far any other type of event hosted in the capital," Calin Ile, VP of the Bucharest Tourism Board and director of Ibis Bucuresti Gara de Nord, told BR.
The event helps shape a positive image of Bucharest as a travel destination and market players are taking full advantage of this. Bucharest hotels that are part of international chains have run special promotion campaigns abroad, travel agencies have brought foreign tourists, restaurants and bars have adopted themed menus and guides have held organized themes tours of Bucharest "following in the steps of George Enescu," added Ile.
"The Enescu Festival is definitely a momentous event for Bucharest as a destination. Apart from giving people a reason to travel to the city, it draws attention to Romania's ability to organize important events that run for several weeks," Jan Thomsen, GM of Athenee Palace Hilton Bucharest, told BR.
The 2013 George Festival brought some 20,000 foreign tourists to Bucharest, up from 16,000 in 2011. This year both organizers and local hotels and restaurants hope that the festival will generate at least many tourists as last time. "We hope this year's festival will be even more successful than previous years as a result of Bucharest becoming a more popular destination over the last few years," added Thomsen.
Given an average budget of around EUR 500 to EUR 600 per tourist, local hotels and restaurants could cash in over EUR 10 million from this cultural event.
For hotels alone the festival brings an average 10 percent increase in revenues, estimates Ile. "The festival drives up demand for the hotel market so in September hotels report higher occupancy rates as well as higher average rates," he added. The foreign tourists are mostly Europeans from countries such as Germany, France, Switzerland and Austria, aged on average above 50, he added.
Alina Fugaciu, GM of Mercure Bucharest City Center, echoes that most of the foreign visitors coming to Bucharest are Europeans and adds that their average stay is between two and three days. "However, we have partnerships with travel agencies that organize groups from Asia and America for this famous event," she told BR. In addition to tourists, the hotel, which is located close to the Romanian Athenaeum and whose interior design centers on music, will also be hosting musicians performing during the festival, said Fugaciu.
September is a good business month for Bucharest restaurants in general, as many city dwellers return from their holidays, but this year it will be particularly profitable because of the festival. "Because it is intensively promoted we expect to see a significant business increase at our restaurants close to venues, such as Trattoria Buongiorno Lido and our locations in the Old City Center: City Grill Lipscani, Covaci, Caru' cu Bere, Hanu' lui Manuc and Trattoria Buongiorno," representatives of the City Grill chain of restaurants told BR.
While pundits admit there are organizational aspects that need improvement in order for the Bucharest tourism industry to make better use of the reputation the festival has earned, they agree that the event will be music to the ears of local hotels and restaurants this September.