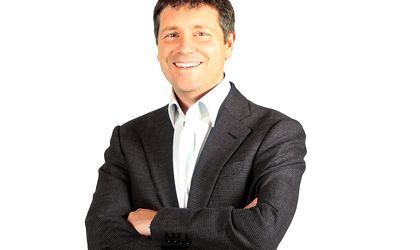 Software development company Endava has moved into new headquarters in AFI Business Park 1. The company is currently hiring, and hopes to reach a headcount of 260 in the new facility. It intends to expand its investments in Romania and the Republic of Moldova.
"The growth of operations in this region was such that we needed a larger delivery center in Bucharest. Our new headquarters and the recent acquisition will allow us to grow in Bucharest and reach 1,600 employees at the level of the group over the next three years, including around 1,000 in Romania," said John Coterell (in picture), chief executive of Endava.
At the moment, there are 100 people working in the new Bucharest space. The office takes up 2,400 sqm over two floors, including 12 conference rooms, leisure space, a sports room and cafeteria, furbished to standards implemented by the company in all its offices.
In Romania, Endava has offices in Bucharest, currently with 100 employees, Cluj with 280, and Iasi with 230. It also has offices in the Republic of Moldova, at which 250 employees are based, which is where Endava started six years ago, before expanding onto the Romanian market.
Over the next three years, Endava plans to meet the 1,000 employee target in its development and support centers in Romania.
"We wish to grow our business in Romania and even double our headcount over the next three years, if we continue to benefit from fiscal facilities and other state aid programs. Romania remains an attractive nearshore destination but it is competing with other states in the region, such as Bulgaria, Ukraine, the Czech Republic and Slovakia but also the Baltic States and Russia," said Coterell.
This would allow the company to recruit 260 people in Bucharest by July 2013, while by 2014 the number would reach 600. The capital is set to become the company's most important center in the region. It is looking for developers of Java and .NET developers, testers, software architects, project managers, business analysts and system analysts.
"The government is putting in place grants and incentives for organizations to come and invest in Romania. All the other countries offered such incentives while Romania was falling behind and we were getting a bit nervous. We are interested in applying for such incentives when possible," said Coterell.
Even though it has made acquisitions in the past, there are currently no plans for new ones. "We only make acquisitions if they are of strategic importance for us, such as a new location, a new country or a new technology," said Coterell.
Otilia Haraga