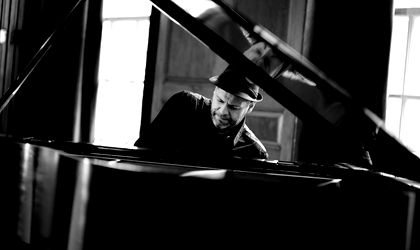 A pianist and a composer, Lucian Ban (in picture) is also the leader of super group Elevation, with whom he will perform next week in Bucharest as part of the European tour named Freeflow 2014. A big surprise will be the returning of the saxophonist Abraham Burton, jazz bass John Hébert and Eric McPherson, meaning that the group will be staged in Bucharest in their original formula.
Described as "one of the most gifted pianists to move to New York in the past decade" by jazz critic Bruce Lee Gallanter, Lucian Ban has managed to bring together, in a series of highly creative projects, the best of both of his worlds – his Romanian musical roots and the vibrant US and European contemporary modern jazz scene.
The quartet have been playing together for sometime now, arriving at a specific sound that stands out with an originality that has brought it to the attention of international jazz critics. This is how Time Out NY comments on the group's work: "… Like Wayne Shorter, McCoy Tyner and other vanguard bandleaders of that era, the Romanian born pianist-composer Lucian Ban alongside intense saxophonist Abraham Burton, bassist Brad Jones and drummer Nasheet Waits favor searching post bop that cranes toward the avant-garde without losing the buoyancy of swing."
The group's stage persona is the result of the powerful combination of big names from the New York jazz scene brought together by Ban, such as the saxophonist Abraham Burton, who has been described by the New York Times as having "…flames coming out of his saxophone", his solos being labeled "powerful and creative", by the same publication.
Ban has recorded more than seven albums as a leader for labels in US and Europe, including Enesco Re-Imagined (2010) and The Romanian-American Jazz Suite (2008). Both of the albums have enjoyed public and critic international success due to the original re-interpretation by international jazz musicians of Romanian classical and folk music, with Ban acting both as a catalyst-composer and a performer.
The concert will take place on May 27, from 20.00, at ArCub. Tickets can be bought online from www.bilete.arcub.ro and cost RON 35.
Oana Vasiliu