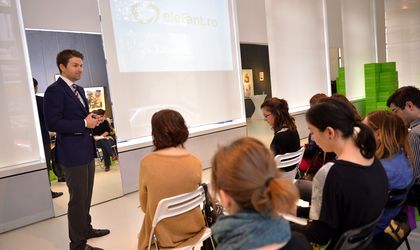 Online family mall elefant.ro has diversified its offer from just online books to eleven categories of products, which include toys, home & deco, fashion and IT&C products.
In 2013, the  online company employed 50 new people, selected a new headquarters and moved its technology department in-house.
This year, elefant.ro opened a new warehouse of more than 3,000 square meters close to Bucharest, where it is paying a lease of 4 EUR per square meter. "We expect 500,000 deliveries from this new warehouse," said Dan Vidrascu, CEO of the company.
elefant.ro also invested into new order delivery points, two in Bucharest and one in Cluj, and will also open 46 pop-up offices, which are points where it will showcase its products across the main Bucharest office buildings.
Between 2014- 2016, elefant.ro will focus on consolidating the business by optimizing the operations developed in 2013 and 2014.
"There will be territorial developments with a focus on the Republic of Moldova for now, but also a much more aggressive promotion of elefant.ro in Romania," said Dan Vidrascu.
Elefant.ro is owned by Fribourg Capital, controlled by businessman Ion Sturza, which has a 60 percent stake, and Dan Vidrascu, CEO of Elefant.ro, with a 40 percent stake.
The company now has 180 employees.
According to Vidrascu, the company will not yield profit during the next two years. "We will need more funds and our current shareholders are ready to cover these needs. We might also have new shareholders to fuel our growth," said Vidrascu.
On November 10, Elefant.ro delivered the order number 1 million. The first order was placed on the Elefant.ro website in June 2010.
Most of the elefant.ro customers (71 percent) are women. Most customers are aged between 25 and 34, followed by the 35-44, 18-24, 45-54 and 55+ age categories.
The average value of the orders placed on elefant.ro is RON 100. Sixty percent of the elefant.ro business is generated by new product categories.
During the Black Friday and Black Week subsequent event, elefant.ro will have seven categories of products available at discounts between 40 and 80 percent, in total approximately 10,000 products .
"Our target is to deliver most products from our own stock so that they can reach the customers within 3-4 days, a week at most," said Vidrascu. During this time, the team working in the warehouse will double.
Otilia Haraga