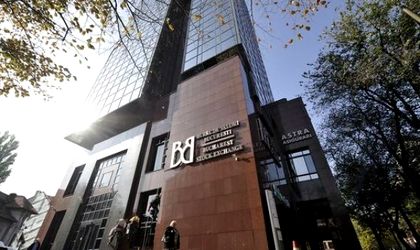 The European Bank for Reconstruction and Development (EBRD) acquired 10,000 shares from the Bucharest Stock Exchange (BVB), reaching a total of 392,942 shares, company representatives announce. This takes EBRD's stake from 4.99 percent to 5.12 percent.
The Bucharest Stock Exchange posted profits of RON 4.82 million (RON 0.63 per share) for the first nine months of 2015, down 48.3 percent year-on-year, according to financial data released by the company. In 2014, BVB had a net profit of RON 11.9 million (RON 155 per share), up by over 25 percent as compared to 2013 and 20 percent over the budget estimate.
The BVB became a joint stock company in 2005, and since June 2010 I is listed on its own market. It is currently one of the 10 companies included in the BET main index.
The BET index dropped by 10.5 percent in January, amid financial turmoil on international markets. This was the largest drop in the region, while Austria's stock market index showed a 7.92 percent decline and Croatia's stock exchange dropped 3.88 percent. Hungary was the only market to register an increase in the main stock exchange index, going up 1.41 percent.
Natalia Martian