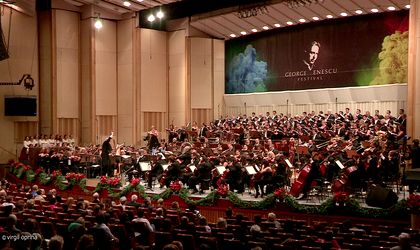 The fourth day of the Enescu Festival brings on the Palace Hall our Romanian National Radio Orchestra, together with the Romanian Radio Chamber Orchestra, the Romanian Radio Academic Choir and the Children's Choir of the Romanian Radio Broadcasting Society, as well as George Enescu Philharmonic Choir. The artists will present one of the largest-scale choral works in the classical concert repertoire, the "Symphony of a Thousand", Mahler's 8 Symphony.
Read also: First notes of Enescu Festival chime out
The Eighth symphony offers a combination of orchestra and voice in a symphonic context. The structure of the work is unconventional; instead of the normal framework of several movements, the piece is in two parts. Part I is based on the Latin text of a 9th-century Christian hymn for Pentecost, Veni creator spiritus ("Come, Creator Spirit"), and Part II is a setting of the words from the closing scene of Goethe's Faust. The two parts are unified by a common idea, that of redemption through the power of love, a unity conveyed through shared musical themes.
The event will take place at the Palace Hall, on September 2, from 19.30. The performance can also be seen online, on www.festivalenescu.ro or listen online on www.radioromaniacultural.ro  and www.romania-muzical.ro
Photo courtesy of the Radio Hall
Oana Vasiliu