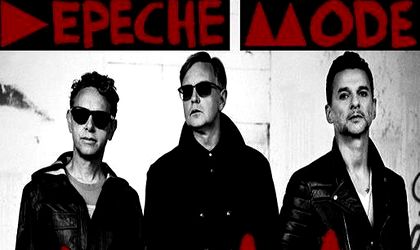 Synth-pop legends Depeche Mode have announced the dates for the European leg of their 2013 Stadium Tour, which they will play in support of their yet-unnamed future album.
The tour will also bring the trio to Romania for a concert scheduled to take place at the National Arena on May 15th, 2013.
The pop-rock icons are eagerly awaited by Romanian fans after they were forced to skip Romania, along with other dates in neighboring countries, during their previous Tour of the Universe, due to the illness of frontman Dave Gahan.
According to an official announcement, Depeche Mode- Dave Gahan, Martin Gore and Andy Fletcher- will play 34 shows in 25 European countries to an audience of more than 1.5 million fans, before taking the tour to North America.
The tour kicks off with an open-air stadium show in Tel Aviv's Hayarkon Park on Tuesday May 7th.

During a pres conference in Paris on October 23, Depeche Mode said they had just finished recording the new album two days earlier. The band also released a song, which does not yet have a name.
Tour of the Universe, the previous series of concerts of the band, closed in 2010.
The band members have used this hiatus to get involved in personal projects- Dave Gahan teamed up with British duo- Soulsavers to launch an album called The Light the Dead See, while Martin Gore teamed up with Vince Clarke, early founder of Depeche Mode, to launch a techno album called VCMG. Meanwhile, the third member of the band, Andy Fletcher, did some DJ dates.
Dates of the European leg are:
MAY 7 – Tel Aviv – Hayarkon Park
MAY 10 – Athens – Terra Vibe
MAY 12 – Sofia Georgi – Asparuhov Stadium
MAY 15 – Bucharest – National Stadium
MAY 17 – Istanbul – Kucukciftlik Park
MAY 19 – Belgrade – USCE Park
MAY 21 – Budapest – Puskas Ferenc Stadium
MAY 23 – Zagreb – Hippodrome
MAY 25 – Bratislava – Inter Stadium
MAY 28 – London – O2 Arena
JUN 1 – Munich – Olympic Stadium
JUN 3 – Stuttgart – Mercedes-Benz Arena
JUN 5 – Frankfurt – Commerzbank Arena
JUN 7 – Berne – Stade de Suisse
JUN 9 – Berlin – Olympic Stadium
JUN 11 – Leipzig – Red Bull Arena
JUN 13 – Copenhagen – Parken
JUN 15 – Paris – Stade de France
JUN 17 – Hamburg – Imtech Arena
JUN 22 – Moscow – Locomotive Stadium
JUN 24 – St Petersburg – SKK Arena
JUN 27 – Stockholm – Borlange Peace & Love Festival
JUN 29 – Kiev – Olympic Stadium
JUL 3 – Dusseldorf – Esprit Arena
JUL 7 – Belgium – Rock Werchter Fest
JUL 11 – Bilbao – BBK Festival
JUL 13 – Lisbon – Optimus Alive Fest
JUL 16 – Nimes – Antic Arena
JUL 18 – Milan – San Siro Stadium
JUL 20 – Rome – Olympic Stadium
JUL 23 – Prague – Synot Tip Arena
JUL 25 – Warsaw – National Stadium
JUL 27 – Vilnius – Vingus Park
JUL 29 – Minsk – Arena