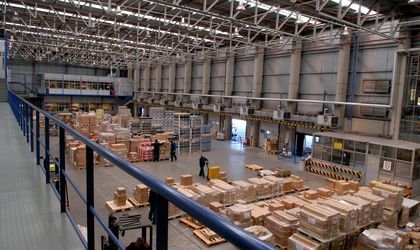 The manufacturing industry and retailers are driving up demand for logistics and industrial space both in Bucharest and outside, real estate pundits told BR. And for the first time in several years, speculative development could resume.
Simona Bazavan
Total leasing activity involving modern industrial and logistics space reached 89,000 sqm in the first six months of 2014, while take-up amounted to 61,000 sqm, according to a DTZ Echinox report. Some 46 percent of this was in Bucharest.
"The take-up of logistics and industrial space increased considerably in the first half of this year compared to the same period a year ago – from 20,000 sqm to 34,000 sqm. At a regional level, the take-up was similar to a year ago, but we anticipate a dynamic evolution over the coming period," Rodica Tarcavu, head of the industrial department at DTZ Echinox, told BR.
CBRE data put the total leasing activity involving logistics and industrial space at 230,000 sqm in the first semester, up by 46 percent y-o-y. Renegotiations represent about half of this. "What's worth mentioning is that relocations and extensions reported an increase in surface area of close to 50 percent this year against the previous one," Dana Bordei, head of the industrial business development at CBRE, told BR.
The overall vacancy rate stood at 8 percent in the first semester, with a higher proportion in the capital – 10 percent. Outside Bucharest this fell to 6 percent and went as low as zero in Cluj-Napoca, Brasov, Pitesti and Oradea, according to DTZ data.
Looking at predictions for the remainder of this year, there are the premises for leasing activity to top last year's level, as demand from both logistics operators and manufacturers is on the rise, pundits told BR. "By the end of the year we expect several important transactions to be closed in Bucharest and outside the capital," said Tarcavu.
In turn, this should also lower the vacancy rate. "In 2014 we expect both take-up and total leasing activity to go up slightly compared to 2013 because of the manufacturing industry. The vacancy rate should drop slightly – in Bucharest we see it at around 12-13 percent," Cristina Pop, head of the industrial agency at JLL Romania, told BR.
In the capital in particular, logistics operators are expanding their surfaces as a result of increased business, including from growing online sales, added Bordei. The expansion of retailers, hypermarkets especially, is driving up demand outside Bucharest, while in the industrial sector, the automotive industry is the main growth engine, she went on.
Rents have remained stable over the first semester, with prime headline rents for modern logistics warehouses ranging from EUR 3.6-3.9 /sqm/ month, but the net effective rental level is down by 10-20 percent, according to the DTZ report.
Headline rents are expected to stagnate through to yearend and there will continue to be flexibility from owners as regards the duration and incentive packages, predicted Pop.
Romania's total stock of modern industrial and logistics space amounted to1.8 million sqm at the end of H1 2014. More than half of this – 53 percent, or about 930,000 sqm – is located in Bucharest. Outside the capital, the largest cities in terms of modern warehousing are Ploiesti, Timisoara, Brasov, Pitesti, Arad and Cluj-Napoca.
Speculative development ahead?
The market is more dynamic and the fact that it is being stimulated by new companies active in manufacturing offers new perspectives to warehouse and logistics space developers, thinks Tarcavu. "Given that over the past four years the main growth engine for this sector has been 'built-to-suit' spaces, we predict that from 2015 developers will reconsider the option of speculative developments, both in Bucharest and in the main cities," she added.
There are signals the market could see the start of works on speculative projects in Bucharest and the other main cities, Timisoara in particular, confirmed Bordei. "For now these projects are in a development phase, not construction, but the situation could change rapidly," she outlined.
"Yes, there are positive signs about future developments as there are developers that are active on the CEE market but not in Romania. The main interest areas are hubs such as Bucharest, Timisoara, Arad, Ploiesti, Cluj-Napoca and Brasov," said Pop.
The latest news about new logistics and industrial developments concerns Swiss Artemis Holding, whose local branch, Artemis Real Estate, has announced that it will develop five logistics and residential projects near Timisoara, on a 128 ha plot of land. Out of this surface, 40 hectares have been allocated to the development of logistics and industrial parks. EUR 15 million has been invested so far in the land and infrastructure works. The developer is now looking to sell or lease the plots of land for periods of about 15 years, but it is not ruling out the possibility of starting developments of its own.