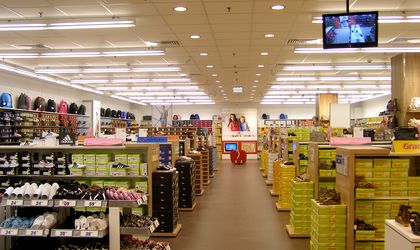 The Romanian subsidiary of German footwear retailer Deichmann has increased its gross revenue by about 15.4 percent in 2012 to a total of RON 251 .2 million (approximately EUR 57 million) after opening 11 new stores. At the end of 2013, the retailer operated a network of 65 stores in Romania, nine of which are located in capital Bucharest. This year Deichmann plans to open another six stores.
Deichmann sold some 2.5 million pairs of shoes locally in 2013 (up 8.4 percent y-o-y). The retailer has also increased its number of employees by 50 to a total of 517  by the end of 2013.
Overall, the retailer's 2013 results have slowed down their growth rate compared to the previous year – after opening seven new stores in 2012,  Deichmann  Romania's gross revenues were up by about 28.6 percent  to a total of RON 217 .7 million (approximately EUR 49 million) and some 2.33 million pairs of shoes were sold locally (up 22.5 percent y-o-y).
German Deichmann is a family owned business which was set up 100 years and has grown to present on 22 European markets and the USA. Last year it reported a turnover of EUR 4.6 billion and operated 3,500 stores.
Simona Bazavan