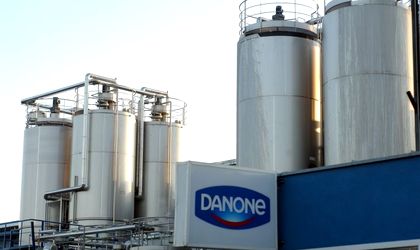 The Romanian subsidiary of dairy producer Danone has reported a RON 506 million turnover in 2012, up by RON 3 million y-o-y, the company announced today. The euro-denominated turnover registered a 4.3 percent drop in 2012 – down to approximately EUR 113.7 million from about EUR 118.9 million in 2011.
By comparison, Danone Romania's turnover was up by 5.7 percent in 2011 (RON 503 million) y-o-y while sold volumes were flat. The growth rate was below the one reported the previous year – in 2010 the company's business grew by 10 percent y-o-y.
Despite a "difficult economic background", Danone Romania reported "a good performance" last year and remains the leader of the local fresh dairy market, commented Dieter Schulz, the company's general director.
The company invested close to RON 18 million (approximately EUR 4.23 million) last year locally, up by more than 10 percent, according to the company. Over the past 15 years, Danone Romania has invested more than RON 300 million (approximately EUR 70 million).
"I am confident that there continue to be growth opportunities for us in Romania. The growth potential of the local fresh dairy market continues to be significant if we consider per capita consumption which is considerably lower in Romania than the European average," said Schulz. In 2013 the dairy producer wants to encourage yoghurt consumption and plans to launch new products while "at the same time remaining vigilant about cost control", added the general director.
Danone Romania produces more than 1.5 million fresh dairy products each day in its factory near Bucharest, for the Romanian market and for export. The company collects, on average over 200 tons of fresh milk each day from Romanian farms
Simona Bazavan