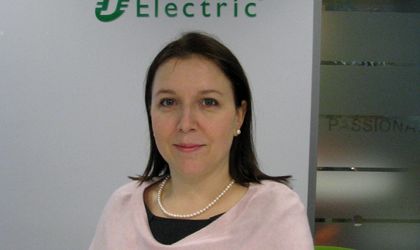 Cristina Mancas has replaced Miriana Matei as human resources business partner Schneider Electric Romania  with Matei taking up a global function within the Schneider Electric Group, specifically that of internal communications business partnership manager, according to a press release from the company.
Mancas, who has "over 15 years of experience in HR solutions" in the oil and gas and finance and banking industries, was previously head of recruitment and expatriate services for OMV Petrom between 2013-2015, "where she coordinated the recruitment activity for OMV Petrom, and the international mobility program for expats from 17 of the OMV group countries", says the press release.
Her new position means that Mancas "will be responsible for outlining and implementing Schneider Electric Romania's HR strategy and will report to the HR director for the South-Eastern European region, Maria Dima", according to Schneider Electric Romania. "Her main objective will be to contribute to reaching the business objectives through concrete actions focused on raising the level of employee dedication" and she will have under her leadership "259 company employees from Romania and the Republic of Moldova", further adds the press release.
Her predecessor, Miriana Matei, will "coordinate a team of Junior Internal Communications Business Partners and contribute to the development and implementation of different internal communications campaigns in all areas of the organization" from her new position, says Schneider Electric Romania. Matei will be reporting to Simona Radu, business partnership hub director, "and will continue to conduct her activity in the Bucharest office", according to the company.
Andreea Tint