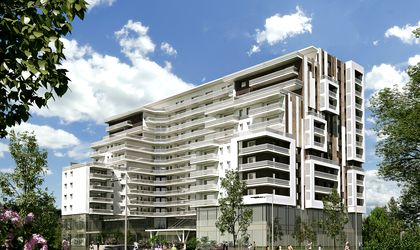 SKV Properties has begun works on a high-end residential project- 49 Gafencu – close to the Herastrau Park in Bucharest, the developer has announced. The project will require an estimated investment of some EUR 30 million and will feature 110 apartments which are due for completion in the first quarter of 2016.
The apartments can already be bought for prices starting at EUR 1,500 sqm/sqm (VAT included) and going as high as EUR 2,500/sqm (VAT included. This means the starting price of a one-bedroom apartments is EUR 139,000 but this goes up to EUR 700,000 for larger apartments located on the last floor.
"It is the largest high-end project built after 2008 and it targets those buyers who have not been persuaded either by the very high prices of properties built during the boom years or the projects being presently developed," said Andreea Comsa, the MD of Premier Estate, the real estate agency responsible for the project.
49 Gafencu is located some 150 m from the Herastrau Park and close to Bucharest's French Quarter. In addition to the 110 apartments available on 11 floors, it will feature 175 parking places, a SPA, a pool, a fitness, a playground, private security as well as concierge services and a business lounge.
Simona Bazavan