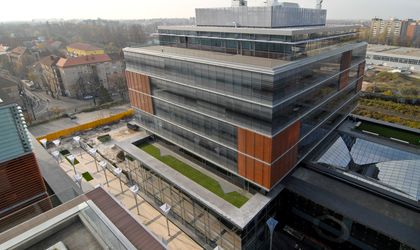 The developer of the City Business Centre project in Timisoara announced it had completed the construction works at the fourth building in the project, located close to the 700 Sqare in Timisoara.
The City Business Development Center CBDC project was developed with non-reimbursable EU financing, received under the regional operational program 2007-2013. The total value of the project stood at RON 71.6 million but the actual spending was of RON 43.7 million. Construction works started in September 2010 and were finished in November of this year.
The building has a total rentable area of 9,500 sqm for office and services space. This adds to the 25,000 sqm delivered between 2007 and 2010. CBC Timisoara also has a conference center with four halls, a video conferences hall and a meeting hall for SMEs. Other facilities include a co-working space for 37 people. SAP and Autoliv Romania, as well as two local SMEs are among the tenants of the building, which is already 60 percent leased.
City Business Center Timisoara is a class A office project, which will include five buildings with a total rentable space of 43,000 sqm. So far the first four buildings (A,B,C,D) were delivered and construction works are set to start for the fifth one in the coming months.