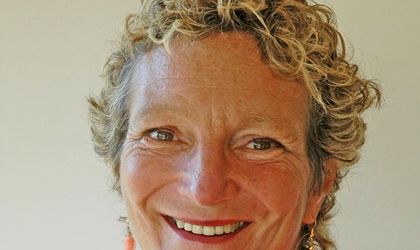 Katie Paine, dubbed the "queen of PR measurement", visited Romania at the invitation of GMP PR and led a seminar teaching local specialists the new tools for measuring PR campaigns and their impact on clients' business. While in town, she talked exclusively to BR about industry trends, approaches, research and the secrets of using the right social media tools.
Romanita Oprea
Why do you believe that many PR consultants are afraid of real research, measurement and evaluation of their campaigns? Do they lack accurate information about the tools they are supposed to use?
I actually think it is genetic, or at least part of their personalities. People go into PR because they love words, writing and creative thinking. Plus, they typically hate math. As a result, they think that research and measurement require them to be a math genius and understand how to parse data. In reality, it just makes their creative endeavours easier because they have facts on which to base decisions.
The other factor in why PR people don't want to be held accountable is insecurity. I think somehow PR people are desperately insecure about their role in business because they've always felt marginalized. And, since historically they have done a bad job of measuring and demonstrating results, they probably haven't had any way to combat that insecurity. Research from the USC Annenberg School for Communication and Journalism shows that CEOs value PR much more highly than PR people think they do.
How would you say the PR industry has changed in the last five years when it comes to measurement?
The use of measurement has grown tremendously in the last five years. The proliferation and availability of data has been one factor – services that can instantly scan all social media and get answers to, "How positively or negatively are people responding to my latest action?" have totally changed people's perceptions of measurement. It's also become cheaper and more accessible to individuals.
The other big factor is that in the last two-three years I've seen a huge increase in people integrating web analytics with media measurement and social data.
Have you seen big differences in approach and trends, from this point of view, between the United States and Europe?
Yes, European agencies and organizations have been slower to move away from AVE (Ad Value Equivalency), in part because it is perceived as an easy way to get consistent metrics. Unfortunately, the results are anything but consistent, since each country has different ways of collecting and pricing AVE.
In general, Europe isn't as obsessed with social media metrics as are PR people in the US. My sense is that personal relationships, particularly with traditional media, matter more in Europe. That said, there are some people doing very good metrics in Europe. For example, Nanette Bresson in Germany is a real pioneer.
What are the main mistakes you have seen both PR professionals and clients make in digital PR measurement?
Getting obsessed with vanity metrics and ignoring the impact (or lack thereof) that social has on their business. Also, they attempt to isolate social from PR, marketing and other aspects of the business, when in fact it impacts every aspect of business, from customer service to competitive intelligence to product development.
Is it more difficult to measure an online PR campaign than a conventional one?
No, it is much easier because digital and online PR generally have tags or calls to action which can easily be tracked in Google Analytics (or other digital analytics systems). Too often traditional PR doesn't use tags or calls to action at all, making it very difficult to track outcomes.
What are the latest social media measurement tools that you are using and how did you chose them?
For influencer identification, I use Little Bird. It tracks individual networks and how they overlap to find the most important people in an industry. For attribution modelling, I find Arrivalist to be an intriguing product. For monitoring, I use CyberAlert for basic monitoring and measurement when volume is normal, because it captures everything. Plus, the prices are reasonable and the quality is excellent. I use NetBase if I have to deal with tens of thousands of items a month because it has the most accurate sentiment analysis.
What are the biggest challenges that you see coming in PR evaluation and measurement?
First of all, adoption of the standards. For the past two years, standards for measuring traditional and social media have existed, but not enough people are aware of them or use them. We need to get the word out that these methodologies define good measurement.
Second of all, getting PR included in the marketing mix modeling systems of major brands. Too many are still ignoring PR's contribution, and now that it can be measured, it needs to be included.
Where do you consider Romania to be on the PR industry map?
I've seen Romania at the forefront of measurement for a while, in part just based on my interaction with people in Romania on the subject. Additionally, major brands now include Romania in their measurement system, and that didn't happen a decade ago.
Why do people call you the "queen of PR measurement" and what challenges does this present?
The title actually came from a session I did at South by Southwest. It was called the "Non-Profit ROI Poetry Slam" and four contestants had to present results in costume and in rhyme. I was supposed to be in costume, but all I had was a tiara that a friend had just given me, which I wove a tape measure through. After that, people started calling me "the queen of measurement" and the name stuck.
To a certain extent longevity has bestowed the title on me. I've been advocating for good measurement for nearly 30 years. I've helped create many of the standards and methodologies that many people use today. I wrote my first story on how to measure PR value in 1987 and my first on measuring digital and online media in 1995.
The challenge for me is to keep on top of all the new developments. That's why I publish a newsletter – it forces me to constantly research the industry to determine the value of the latest tools, rules and techniques. For example, right now I'm working on the implications of the new Google algorithm and also trying to figure out the implications of Twitter and Facebook restricting access to their content. And then there are all the tools that come out every week. Despite what many people think, measurement is not boring.