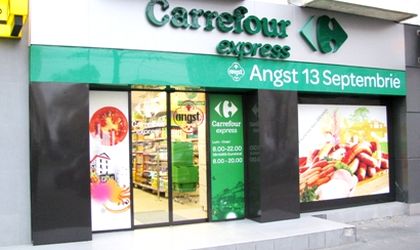 Retailer Carrefour Romania will open 20 stores under the Carrefour Express retail brand after  reaching franchise agreements with Rost Com and Traditional Ecologic, two store networks in Brasov and Bucharest-Ilfov, respectively.
The 15 units which will be opened in Brasov represent the first Carrefour Express expansion outside Bucharest.
Carrefour Romania opened its first proximity store under the Carrefour Express retail brand in October 2011 following a franchise agreement with local meat producer and retailer Angst.
Francois Melchior De Polignac, Carrefour Romania's general director said this June that the retailer plans to further expand all its existing formats in Romania. The next hypermarket Carrefour to open is located in south-western Bucharest on the former Vulcan industrial platform. Polignac offered no other information on concrete new openings and the company declined to comment on previous rumors that it was planning to leave Romania.
Carrefour Romania operates locally 24 hypermarkets, 67 supermarkets and 27 proximity stores. Last year it posted a EUR 987 million (VAT not included) turnover, up 3 percent y-o-y.
Simona Bazavan