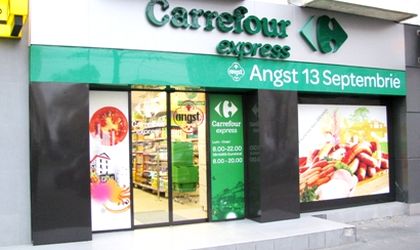 The Romanian subsidiary of French retailer Carrefour has opened two new proximity stores in Bucharest,one of which is located in the capital's Old Town, the company announced today.
The two stores which have taken up the Carrefour franchise have been rebranded as Carrefour Express Wine&Co and Carrefour Express Icebreg. Express Wine&Co is located in the Old Town at 54, Franceza Street. It covers some 70 sqm. The second store is at  27,  Colentina Street and has a 149sqm sales surface.
Carrefour Romania opened its first proximity store under the Carrefour Express retail brand in October 2011 following a franchise agreement with local meat producer and retailer Angst. The franchise targets family onwed business and enables the stores' owners to "run the business while being assisted by Carrefour Romania".
Following these two openings, the Carrefour Express network now comprises 56 units. In addition to this, Carrefour also runs 25 hypermarkets, 77 supermarkets and this July it opened an online store –  carrefour-online.ro.
Carrefour Romania's turnover stood at EUR 986 million (VAT not included) last year, up 3 percent y-o-y.
Simona Bazavan