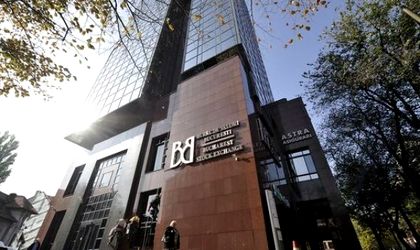 The Bucharest Stock Exchange (BVB) registered in January 2016 over 100,500 transactions amounting to RON 812.6 million (EUR 179.3 million), according to data released by the company, as quoted by Agerpres.
The daily average stood at about RON 40.6 million in the 20 trading sessions that took place. There were 66,645 transactions with shares on the main segment, reaching over RON 631.8 million, through the 84 issuing companies and 40 brokers.
There were 42 bond transactions, their total value standing at RON 100.1 million, and transactions with allowances amounting to over RON 41.3 million.
From December 29 to January 29, the most traded securities were from Fondul Proprietatea, their total value surpassing RON 151.1 million. The second position is occupied by the Transilvania Bank with RON 124.7 million and third Romgaz with RON 79.7 million.
On the alternative trading system (ATS) there were 4,082 transactions in shares worth RON 37.2 million, with 306 issuing companies and 34 brokers. The system hosted three bond transactions worth RON 1.57 million.
During this period on the ATS the most transacted company was Practic SA Bucharest, reaching RON 28.6 million, Deutsche Bank coming in second with RON 1.32 million and Gastronom SA Buzau third with RON 1.07 million.
BVB had closed 2015 in decline, this year being the first one since 2011 in which the BET index depreciated, after having a median annual increase of 11.21 percent between 2012 and 2014.
Natalia Martian