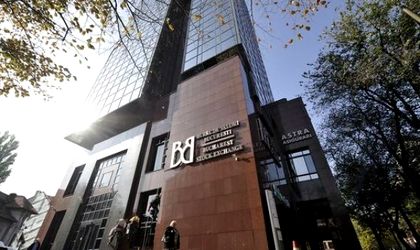 Bucharest Stock Exchange (BVB) released its December 2015 market report for the regulated market, showing it has moved in line with most markets in the region, its main index (BET), decreasing by 1.8 percent.
BET Total Return (BET-TR) ended December 3.14 percent above the level registered at the end of 2014. The BET-TR index reflects the performance of the top 10 most liquid companies listed on BVB (included in the BET index also), as well the dividends these companies distribute to shareholders.
The value of trades with shares, excluding offers, decreased by approximately 17 percent in December, to RON 607.8 million (EUR 135 million). The total turnover with shares was 14 percent lower than the level registered in December 2014.
The average daily turnover reached some RON 32 million (EUR 7.1 million) in December 2015, 13 percent lower than the previous month. Compared to December 2014, the decrease is of 19 percent.
In December 2015, investors traded shares, bonds, fund units and structured products, except offers, for almost RON 666 miilion (EUR 148 million), 16 percent lower year on year and 18 percent lower compared to November 2015.
The market capitalization of all companies listed on the Bucharest Stock Exchange slightly increased, to RON 146 billion (EUR 32.2 billion). Over half of this amount is represented by the market capitalization of Romanian companies (RON 76.8 billion, about EUR 16.9 billion).
In December, the five most traded shares were: Banca Transilvania, Fondul Proprietatea, OMV Petrom, Romgaz and BRD Groupe Societe Generale, with a total value of almost RON 480 million (EUR 106 million).
Natalia Martian