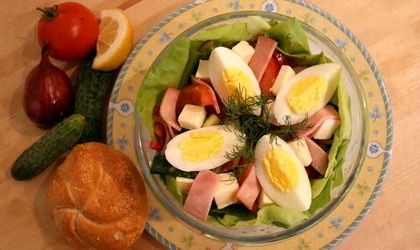 The European Parliament celebrated the elections in a unique way on Facebook: by holding the culinary version of the election. Europeans were invited to select the best food on the continent. The 751 members of the Parliament offered the options for the "Taste of Europe" online contest.
The Bulgarian Salad won by a whopping 14.214 votes, followed by Lithuanian cold beet soup with 2,268 votes and Romanian sarmale with 995 votes.
Clearly, we were robbed.
Top 10 European Foods according to the poll ran by the European Parliament
1. Bulgaria: Bulgarian salad (Shopska salad), 14,214 votes.
2. Lithuania: cold beet soup, 2,268 votes.
3. Romania: sarmale, 995 votes.
4. Slovakia: sheep cheese pies, 811 votes.
5. Greece:  sarmale with vine leaves, 799 votes.
6. Austria: schnitzel, 735 votes.
7. Italy: spaghetti, 613 votes.
8. Estonia: mackerel on bread, 437 votes.
9. Latvia: sweet rye, 402 votes.
10. Poland: hunters stew, 385 votes.
You can see the rest of the candidates here.