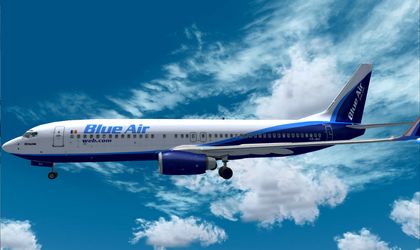 Blue Air plans to reach the threshold of 2.5 million passenger until 2017, almost double the number they registered in 2014 (1.5 million), through a recent partnership made with Amadeus booking system, the company announced.
The partnership allows full access to the airline's offers via the Amadeus booking system, available in Romania, Germany, Italy, Spain, UK, France, Cyprus, Greece, Israel and Belgium.
"The implementation of Blue Air, the second air operator in Romania, is another example of our commitment to provide the widest range of content to Amadeus partners. Travel agencies are now able to offer a wide range of tickets for their customers, thus providing them with a better service and helping to increase revenues for the agencies. On the other hand, Blue Air can access a range of passengers with greater profitability, such as on business travellers," Robert Komartin, general manager of Amadeus Romania said.
At the moment, Amadeus partners with 70 low cost and hybrid airlines. The company has a network of agencies covering over 200 markets globally, employing 13,000 people in their central offices from Madrid, Nice and Erding, along with 71 local units.
Blue Air is a Romanian owned hybrid airline operating 42 regular destinations and occasional charters. Having a fleet of 15 Boeing 737 aircrafts, the company employs 750 and closed 2014 with a turnover of EUR 150 million.
Natalia Martian