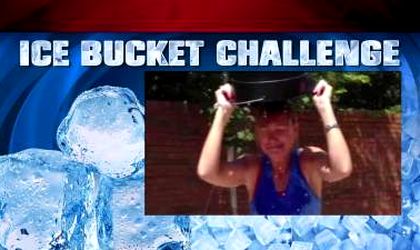 The ALS Ice Bucket challenge is the latest viral phenomenon to take the internet by storm. Everybody from famous Hollywood actors to the most random Internet users are willing to film themselves getting soaked in ice water for the sake of charity in a call for donations to fight against Lou Gehring's disease.
The challenge first received increased media attention in the United States on June 30, 2014, when personalities of the program Morning Drive, which airs weekdays on Golf Channel, televised the social-media phenomenon, and performed a live, on-air Ice Bucket Challenge.
The campaign really exploded when Mark Zuckerberg and Bill Gates opted to take on the challenge and nominate other people to do so. On August 25, the ALS Association managed to raise USD 79 million in funds for fighting Lou Gehring's disease. More on the campaign and the ALS Ice Bucket Challenge here.
It didn't take long for the business community in Romania to take note and see this as an opportunity to take parte in an Internet phenomenon that ironically is burning hot at the present but also represents free publicity with a side of cheap CSR.
Here are some of the biggest businessmen and brands in Romania that have participated so far in the ALS Ice Bucket challenge.
Mark Hilton, KFC Romania CEO
Mark Hilton poured a bucket of ice-water on his head but his company also initiated a special campaign in honor of the ALS challenge. For every bucket of water that a KFC consumer pours on himself, the fast food chain will donate the equivalent of a KFC Hot Bucket (RON 32) to the Romanian Alliance for Rare Diseases and to the ALS Association.
Dragos Anastasiu, owner of  Eurolines and Tui Travel
The "travel mogul" was soaked with not one, not two, but three ice buckets, but he also made a donation to the Romanian Multiple Sclerosis Society.
Aleksandras Cesnavicius, CEO ProTV
Realitatea.net's campaign
Realitatea.net took the initiative and invited a host of business personalities to get involved in a campaign mimicking the "Ice Bucket Challenge" coordinated to raise funds for the Romanian Multiple Sclerosis Society. Radu Florescu and Mihai Marcu are just a couple of examples of business men that responded to the news channel's appeal.
Radu Florescu, CEO Saatchi&Saatchi
Mihai Marcu, Medlife CEO
Jean-Baptiste Dernoncourt, CEO Carrefour Romania
Given that it is an election year, the political class also decided to jump on the bandwagon, some of them proving very "creative" in adapting the challenge to further their own ideologies.

Monica Macovei, European MP, presidential candidate
Cristian Boureanu also performed the challenge and nominated Elena Udrea, Cozmin Gusa and Sebastian Ghita to join in as well. Watch Boureanu's "bucket-trial" on his Facebook page.