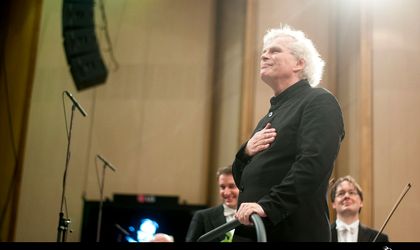 The major coup of the Enescu festival, the Berliner Philharmoniker, with whom negotiations had lasted over 15 years, has decided last night to return to the Enescu festival thanks to the reactions of the Romanian public who cheered the orchestra last night for their amazingly thrilling performance of Britten and Shostakovich's plays.
Read also: First notes of Enescu Festival chime out
Due to the busy schedule of the orchestra, they won't be able to participate at the 23rd edition of the Enescu festival, in 2017, but they will definitely come in 2019, confirmed the management of the most famous orchestra of the world. Unfortunately for the Romanian public, conductor Sir Simon Rattle (in picture) won't conduct the Berliner Philharmoniker Orchestra for this occasion because from 2018 the new conductor will be the Russian Kirill Petrenko.
Photo courtesy of Enescu Festival
Oana Vasiliu