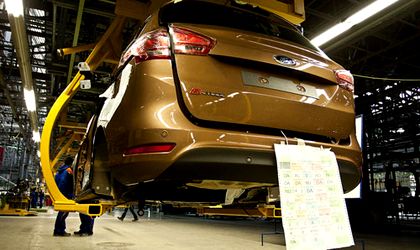 New vehicle sales dropped for the sixth consecutive year in 2013, reaching a level similar to the one 13 years ago, namely 82.000 units, after a decrease of 6,3%, in spite of a second semester where deliveries rose.
"2013's second semester saw an important increase in sales, which lead to significant rises in certain months compared to 2012. As a result, for this period we can observe a medium increase of 5,7% in the market compared to a similar period in 2012, out of which 9,7% refers strictly to automobiles. In spite of this, at the end of the year we saw a general drop in the market of 6,3%, out of which automobiles registered a drop of 4,8%", according to a press release from the Car Manufacturers and Importers Association of Romania (CMIA).
Total vehicle sales amounted to 82.011 units last year, out of which 68.702 were automobiles. On the other hand, car production is at an all time high. Romania assembled 410.997 cars last year, a 21,7% increase compared to 2012. CMIA president, Ernest Virgil Popovici, explained in a press conference that this significant increase in national production was due mainly to automobile production, which increased by 25,8%.
Compared to 2012, we produced an excess of 73.232 vehicles. The bulk of the production came from the following brands: Dacia Duster (123.213 units), Dacia Sandero (119.228 units), Dacia Logan (84.050 units) and Ford B-Max (68.339 units).
Second-hand
CMIA data shows that 266.000 second-hand units were sold last year, out of which 221.800 were automobiles, a 27% rise compared to 2012. Basically, for every new car sold in Romania last year, another 3.8 used cars were purchased.
Top 5 favorite second-hand brands
1.  Dacia (22.727 units sold, 33,1% of total)
2. Volkswagen (7.447 units sold, 10,8%)
3. Skoda (5.516 units, 8%)
4. Renault (4.088 units, 6%)
5. Ford (3727 units, 5,4%)
CMIA notes that diesel engines proved more popular last year, accounting for 53,8% of the market, as opposed to 51,3% in 2012.
Exports
Romania exported 362.869 units in 2013, a 9,6% rise compared to 2012. 88% of national production was meant for exports. The increase relied most on automobiles, where exports rose by 13.1%. The most requested models were Dacia Duster (118.901 units), followed by Sandero (114.102 units), Ford B-Max (68.353) and Dacia Logan (43.373).
National Auto-park
According to the National Direction of Liscensing and Registering Vehicles, at the end of 2013 Romania's national auto park reached a number of 5,98 million units, a 4,73% increase compared to 2012. 1,91 million of these vehicles are aged between 6 and 10 years, and 1,42 million units are older than 11 years. 1,14 million units are older than 20 years.


Diana Petrescu