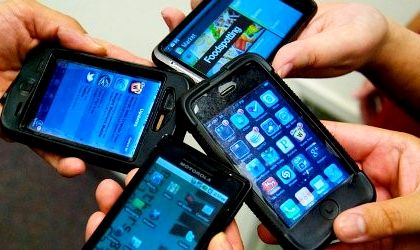 The smartphone market hit a milestone in 2013 with more than a billion shipped, a survey showed. Samsung extended its lead as the world's biggest vendor, accounting for 31,3% of sales, ahead of Apple's 15,3 percent, according to the poll by market research and analysis firm IDC.
IDC said vendors delivered a total of 1.004 billion smartphones last year, up 38,4% percent from 2012. And smartphones made up 55% of the total mobile phone shipments of 1.8 billion.
South Korea's Samsung saw growth of 42,9%, allowing it to extend its dominance in the global market, the IDC figures showed.
Apple saw 12,9% growth, slower than the overall market, resulting in a declining market share. China's Huawei narrowly captured the number three spot with a 4,9% market share, ahead of South Korea's LG (4,8%) and Chinese maker Lenovo (4,5%), IDC said.
A separate survey out Monday showed that the Android smartphone platform has extended its lead over Apple's iPhone in key markets including the United States, Europe and China. Windows Phone, meanwhile, has made inroads to secure a strong third place showing in some markets, and is ahead of Apple in Italy, according to the survey of fourth quarter sales released by Kantar Worldpanel.
The survey showed that Android, the free operating system from Google, remained on top in Europe and most other major markets outside Japan.
Smartphones coming out in 2014
Apple shares drop
Apple recorded revenue of $57.6 billion (£34.7bn, €42.1bn) which was up 6% compared to the same period in 2012. Despite this record revenue, Apple's net profit was slightly down to $13.072bn compared to $13.078bn in the final three months of 2012.
This was likely the main reason that Apple's shares dropped over 8% in after hours trading, with the shares $504, down from $550 at close, writes ibtimes.co.uk.