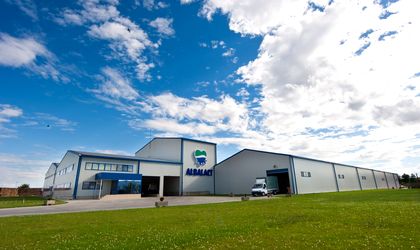 Albalact Group in the first three months registered a turnover of RON 121.26 million (EUR 26.9 million), up 12 percent over the same period last year, while profit climbed 24 percent, to RON 3,57 million (EUR 793,000), announced on Friday the dairy processor, according to Mediafax.
The financial, unaudited statements include both Albalact results and those of Raraul Campulung Moldovenesc and Albalact Logistic, owned by Albalact SA.
"We will continue the same strategy for a healthy growth of business, and the premises are good and give us confidence that at the end of the year we will achieve our goals. (…) The 2015 economic context also allows us to be more optimistic. Reduced VAT from 9 percent for food will improve the purchasing power and we believe that it will lead to a slight increase in consumption," stated in a press release Albalact general manager Stephane Batoux.
Last year, Albalact completed investment of about EUR 8 million to upgrade and expand the production capacity of the Oiejdea plant, Alba County.
Albalact shares will be traded as of Wednesday on the regulated market administered by Bucharest Stock Exchange.
Marcin Wojcicki, Business Development Manager BVB, stated at the SMEs HOW TO 2015 event organized by Business Review on Thursday that IT and agriculture companies can become BVB partners. "Let's just say that IT companies that are based or enabled are most possible partners for us."
Staff