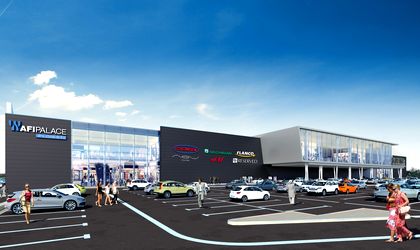 Fashion retailer Koton is one of the most recent tenants in the future AFI Ploiesti shopping mall, taking the projects's occupancy rate to 90 percent, AFI Europe Romania, the center's developer, has announced.
The mall, whose total sales area has been increased from an initial 28,000 sqm to 33,000 sqm, will be officially opened on October 3 this year. AFI Europe is presently working on the project's second phase which consists of expanding its initial entertainment area by 4,000 sqm. Part of this will be leased by Cinema City which already runs a multiplex in the Ploiesti ShoppingCity mall.
AFI Ploiesti is promoted as the first modern shopping mall in downtown Ploiesti However, the project will be the second of this kind in the 200,000 inhabitants city after in November 2012, Carrefour and New Europe Property Investments (NEPI) have opened a 55,000 sqm shopping mall on the city's outskirts. Ploiesti Shopping City is located close to the National Road 1 (DN1) which connects Bucharest to the Prahova Valley and required a EUR 65 million investment.
AFI Palace Ploiesti is being built on the Gheorghe Doja Street and will host some 100 shops. The latest tenants in the shopping mall are Koton, Smyk, Vicina, Hello Kitty, Sabon, Carturesti, Jack and Jones, Braiconf and Leonardo. Other future clients include Cora, Flanco, H&M, New Look, Reserved, Mussete, Timeout, Collins, Nike, Aldo, Motivi, Otter, Lee Cooper, Il Passo, B&B, Jolidon, KFC, McDonald's, El Bacha Restaurant, Quasi Pronti, Pizza Dominium, Thang Long and Pizza Bonita.
Simona Bazavan