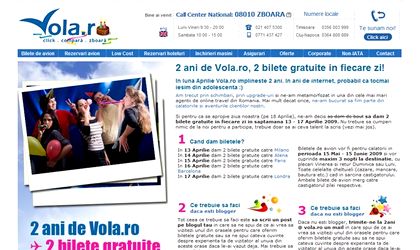 Online travel agency Vola.ro, with FRU.pl operating on the Polish market, received an investment of EUR 5 million, meant to contribute to the company's technological development and international expansion. The deal was completed this month between Interactive Travel Holdings (ITH) – majority shareholder of Vola.ro and FRU.Pl, the similar business on the Polish market – and investor 3TS Capital Partners.
"We aim to use the investment to continue the development of the technology platform in order to strengthen our market position by accelerating marketing investments and in order to analyze the opportunities on other markets," said Daniel Truica, Vola.ro managing partner and founder.
Vola.ro is present in Romania for 8 years. Founded in 2007 by Daniel Truica with two Polish partners, the company focused at first on selling air tickets, adding progressively all travel related services: hotels, medical insurance, car rentals, corporate services and city break/ holiday packages.
"We intend to continue our city break product development and promotion, where we see great growth potential. (…) It is already our product with the largest increase, yet we want to transform it into a business line as large as airline tickets," also stated Daniel Truica in a press release.
In order to meet the expansion and development plans, Vola.ro will employ a few dozens of people, mainly for the IT department.
Besides Vola.ro, 3TS investments in Romania also include: Elefant, InternetCorp and Unirea Medical Center.
Vola.ro registered in 2014 a turnover of RON 122.3 million (EUR 27.5 million).
Staff