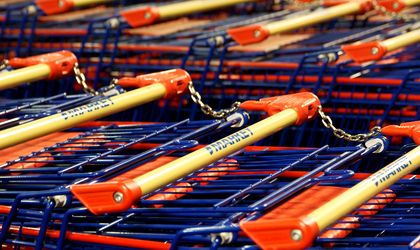 Online expansion and new formats, increased efforts to find local suppliers and a slowdown in store openings are the main developments expected on the Romanian retail scene in 2014, Michael Weiss, partner with A.T. Kearney's Bucharest office, tells BR.
There is little to indicate that 2014 will be considerably different from the previous year for the local retail industry, yet at a closer look, there are the right premises for this year to mark the beginning of more profound changes to come.
"While at first glance, the challenges look similar to last year's – for example flat market dynamics, little prospect of improving purchasing power, retail overcapacity and discount-driven competition – most retailers reached the peak of what business as usual offers in 2012 and short-term optimization and operational tactics are no longer enough to protect current levels of operative margins," said Weiss. Retailers' reactions over the past year have ranged from introducing innovative formats such as new franchise concepts, changing their approach to local sourcing strategies and category management, he explained.
2014 will not bring abrupt changes, but rather the beginning of a gradual transformation over the next two or three years, where "the market and retail landscape will be shaped by players that not only have innovative approaches but are actually able to implement them," added Weiss. This will mean introducing new formats, increased efforts to find local suppliers and changes in store operations.
Above all, retailers going digital is one of the major trends predicted for 2014. "We are expecting significant changes in digital retail. If you consider a market like Romania where a discounter such as Lidl has more than 1 million Facebook friends, you can see a clear indication of the market potential," he said. With the right strategy in place, the shift towards online looks like the most promising game changer this year, across formats, but also for urban versus rural retail segmentation, he believes.
As for new players entering the local market, Romania will probably not see the arrival of another international player in 2014, thinks Weiss. However, existing players will look into expanding into selected niche categories and formats, and consolidation is likely for retail formats where there is overcapacity. The growth potential of big retail formats is limited and players will most likely slow down the opening of new stores.
2013 highlights
Although consumption showed no concrete signs of recovery in 2013, several local retailers maintained a steady expansion pace throughout the year, with Mega Image, Kaufland and Profi among the most active. With the exception of Kaufland, small stores were the option of choice when opening new outlets.
Last year's big news was the opening of the first online grocery store operated by a large retailer. In July, Carrefour officially launched its online store – carrefour-online.ro. In November, Cora launched the first local drive-through service which for now is available in its Lujerului hypermarket in Bucharest.
Mega Image was one of the players that maintained an aggressive expansion pace by opening 104 new stores: 37 Mega Image supermarkets and 66 Shop&Go proximity stores. Meanwhile, in September, Romania became the first country where the Belgian Delhaize group launched a new retail brand, AB Cool Food, which sells exclusively frozen foods. By the end of the year Mega Image was operating a network of 296 stores in Romania.
Other players also invested in opening new stores. Discounter Kaufland opened eight new hypermarkets in 2013, reaching a network of 89 at the end of the year. Part of the same Schwartz Group, Lidl opened 14 new outlets in 2013, giving it a total of 168 units. Profi opened 63 new stores in 2013 and launched new retail formats. By the end of the year the retailer was operating 207 stores.
By December, Carrefour Romania had grown to a network of 25 hypermarkets, 78 supermarkets, 56 Carrefour Express proximity stores and the firm's online store.
Cora opened two new hypermarkets in 2013 and had a network of 12 hypermarkets at the end of the year. After taking over the 20 local Real hypermarkets as part of a regional deal with Metro Group in 2012, Auchan started rebranding the first stores. Following the takeover, Auchan Romania reached a network of 31 branches.
Simona Bazavan