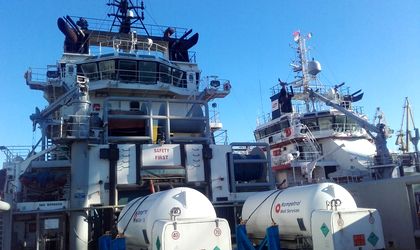 This year Rompetrol Well Services (RWS) resumed and expanded the range of oil well services provided for upstream operations in the Black Sea through the recent contribution to the extensive decommissioning project of the Gloria platform.
RWS completed the works for securing and preserving the wells related to the marine platform owned by OMV Petrom, in safe conditions and subsequently their cementing. The works were completed successfully with Rompetrol Well Services staff and equipment, in line with the best international practices and American Petroleum Institute (API) standards.
Technical solutions and cementing slurries used for the closure of the wells were developed by RWS, using specialized software programs and 70 years of experience. Final cement slurry was tested in Company's laboratory in Ploiesti.
RWS's cementing equipment was deployed to the fixed platform (PFSS3) located 80 km off shore, to perform abandoning works (cementing and placing a balanced cement plug) for a well on LebadaEast field, drilled in 1989.
Besides conventional activities, RWS together with its long time partner – OMV Petrom, developed in 2016 a pilot project to increase the productivity of 4 oil wells of "Pescarus" offshore deposit. Discovered in 1999, "Pescarus" was at the time the largest commercial discovery of the last quarter of the century in Black sea.
The project was aimed mainly at stabilizing and stimulating the production of oil, with innovative use of carbon dioxide as a solution transfer agent, which allowed a better dispersion of the solution. The project was considered successful and was scaled out on other onshore extraction wells in Romania.
Rompetrol Well Services offers a wide range of services for oil and natural gas wells on the Romanian and Eastern Europe markets. Annually, the RWS performs up to 500 cementing operations with depth up to 5.000 meters and performs more than 400 matrix stimulations.
During the first nine months of this year, Rompetrol Well Services registered a turnover of 48 million lei, approximately 13% higher than the first nine months of 2018. Net profit increased by 30%, up to a level of 9.83 million lei. The positive evolution of the financial results was sustained both by the internal optimizations and investment programs, as well as by increase of industry operational activities.
Leader in the field of special well services in Romania, the company was established in 1951 as a state company under the Ministry of Oil and Chemistry, under the name of "ICOTS – Intreprinderea de Cimentari, Operatiuni si Trasporturi Speciale (Cementation, Operations and Special Transport Company)".
Since 1990, the company became privately owned Petros Ploiesti S.A. It is listed on the Bucharest Stock Exchange since 1998. The Rompetrol Group (currently KMG International) took over the majority shareholding in 2000, with a 73% stake at present.
Rompetrol Well Services offers specialized service operations at oil and gas wells: primary, secondary, remediation cementings, and matrix stimulation operations using world class components and equipment, backed by tubular running services.