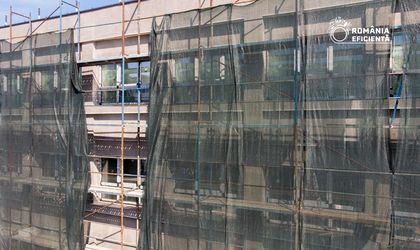 Liliești secondary school from Băicoi (Prahova county) is the second educational institution in Romania that will be brought to nearly-zero energy building standard (nZEB) as part of România Eficientă program, carried out by Energy Policy Group (EPG) and financed by OMV Petrom.
About 450 students study at this school. The investment amounts to approximately EUR 1.4 million, thus becoming the largest private investment for the energy renovation of an educational unit in Romania. Following the renovation, the building's total annual energy consumption for heating will be reduced by more than 60%. Also, the school will benefit from "green" electricity, obtained from its own sources. Completion of the works is estimated for January 2023.
Liliești secondary school will be the second school rehabilitated through România Eficientă program. This year, in April, the rehabilitation works were completed at "Elie Radu" Energetic Technological High School in Ploiești, the first school in Romania renovated at nearly zero energy building standard through a private investment. The modernization works for this project amounted to approximately EUR 1 million.
Christina Verchere, CEO of OMV Petrom:
"We all need energy and we also have to be thoughtful of consumption, eliminating waste and using energy responsibly. Through România Eficientă, we want to show that energy can be used responsibly and can contribute to increasing comfort and quality of life. The education for responsible consumption of natural resources is essential for a sustainable economic development."
Radu Dudău, director of the Energy Policy Group and coordinator of the România Eficientă program:
"After a first success in the spring of this year, we are happy to move on to a new, even more ambitious nZEB standard renovation project. The experience gained through the pilot project in Ploiești will allow us to optimize the planning and execution of the renovation works at the Liliești secondary school in Băicoi. Moreover, all the schools selected in România Eficientă program will serve as models at the national and regional level for renovation to nZEB standards".
Liliești secondary school from Băicoi was built in 1980. The building (B+G+2F) has 16 classrooms, main office, laboratories, technical spaces, etc. The unfolded area of the three levels is about 2,150 square meters. About 450 students coordinated by 40 teachers study in the building.
The main planned energy rehabilitation works:
The external walls, the plinth, the terrace, the floor above the unheated basement will be thermally insulated;
The existing carpentry will be completely replaced with energetically efficient PVC, carpentry with low-e triple glass, and the windows will be equipped with aluminum sunshades, electrically adjustable;
Indoor heating installations (pipe networks and radiators) will be modernized and air filtration equipment with heat recovery will be installed;
The lighting system will be replaced with an ultramodern one based on LED lighting source;
A system of 30 photovoltaic panels of 550W each will be installed to produce electricity from "green" sources;
The thermal energy production system will be replaced with a heating system with 5 heat pumps.
Beyond reducing energy bills, this rehabilitation will lead to a reduction in the school's carbon dioxide emissions.