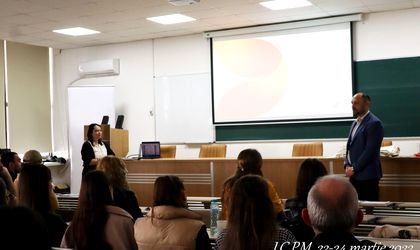 Representatives of the DS Smith Zarnesti Paper Mill were present again this year at the second edition of the "Career Introduction – Planning and Motivation" event organized at the "Cristofor Simionescu" Faculty of Chemical Engineering and Environmental Protection, "Gheorghe Asachi" of Technical University of Iasi, to discuss with students about career opportunities and internship programs offered to young people within the paper mill.
Zarnesti Mill is committed to offer students a real work experience during college. Thus, they have the chance to develop their practical skills and acquire competencies before officially starting their career. The company considers this approach essential to help young people prepare for the labor market and have a smoother transition from student to professional life. Additionally, this approach offers the company the opportunity to identify and recruit talented and ambitious young people at an early stage in their careers.
During the presentation, representatives of the DS Smith paper mill in Zărnești, Marius Juncanariu, General Director, and Diana Ciuraru, Human Resources Director, captivated students' attention with their discussions about sustainability and its importance in the company's circular business model, and presented the sustainable paper production process. Additionally, they presented the "DS Smith Paper Engineering Graduate Program" an international initiative of the Group that provides job opportunities within the Zărnești mill (2023-25), offering subsequent relocation perspectives to other group factories worldwide.
Also, DS Smith Zărnești continues the partnership concluded with the "Gheorghe Asachi" Technical University for the "Summer School" program, which offers students a unique opportunity to develop their practical skills within the mill, over a period of two months, August-September, under the guidance of specialists from the DS Smith team. These paid internships are an important step in providing students with concrete opportunities to develop their skills and learn in a sustainable business environment.
Marius Juncanariu, General Director of DS Smith Paper Zărnești, emphasized:
"Through these initiatives, we intend to create a concrete connection between the academic and business environments, thus offering young people a valuable opportunity to develop their potential. By involving them in a modern paper mill with a strong sustainability strategy, students will have the chance to explore their profession in-depth and deepen their knowledge in this field. The aim of this program is to help students discover their passion and develop their skills in a real work environment."
Diana Ciuraru, Human Resources Director at DS Smith Paper Zărnești, said:
"I am delighted to have been able to participate for the second time in this event, through which we were able to demonstrate our circular business model and career opportunities for young people interested in the paper industry. We're excited to offer students the opportunity to experience a real working environment in a modern and sustainable factory, and to begin shaping their career while still in college. In addition, the internship program will offer young people the possibility to better understand how theoretical knowledge is applied in a practical context in a dynamic and motivating environment."
Zarnesti Mill has launched a series of initiatives to support education and sustainability in the local area – helping the company to deliver on it's Now & Next Sustainability Strategy target of engaging 5 million young people by 2030 on the circular economy and circular lifestyles. Three years ago, the company entered into a partnership with middle schools in Brașov county, through which over 720 students participated in interactive sessions on topics such as environmental protection, selective waste collection and the circular economy.
DS Smith Zărnești is the largest paper manufacturer in Romania, covering almost half of domestic demand.
DS Smith's operations in Romania include a recycling center in Bucharest, two recycling depots in Otopeni and Cluj Napoca, a paper mill in Zărnești, two packaging production units in Ghimbav and Timișoara, and three service centers in Pitești, Timișoara and Otopeni, employing more than 650 people in total.