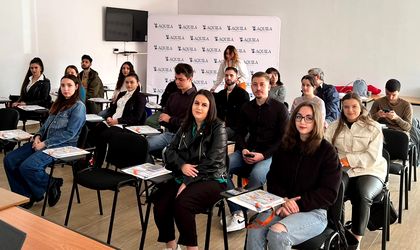 AQUILA (AQ), the market leader in the field of integrated distribution and logistics services for consumer goods in Romania and the Republic of Moldova, with almost 30 years of experience in this industry, announces the expansion of the number of participants in the internship programs organized in partnership with the Faculty of Economic Sciences of the Petroleum – Gas University of Ploiești (UPG). The company has offered 19 training internships in the AQUILA Building Careers program, from April 19 to May 31, 2023.
Răzvan Bagherea, Director of Organization and Human Resources:
"The company has been running for over 3 years internship programs in partnership with universities. These programs help attract and develop young talents, serving as a source of potential future employees. This year, the company is expanding the number of young participants in the program,  increasing also the value of the scholarships provided. We are close to the young persons who are embarking on their future careers, and during the designated internship periods we offer them our extensive experience, providing all the program to showcase the actions we constantly undertake to maintain the leadership position in our field of activity."
At the end of the internship period within the AQUILA Building Careers program, the three most involved and proactive students will receive individual scholarships worth RON 4,500 throughout the following academic year, as a means of support for their academic preparation. Students who excel with very good or excellent results will have employment opportunities within the company upon completing their studies. Additionally, if the university program permits, the company can offer part-time or full-time jobs at any time.
AQUILA offers training internships for students in various fields such as Merchandising and Quality Management, Accounting and Management Informatics, Business Informatics, or Management.
Since 2021, AQUILA, in line with the pillars assumed in its sustainability strategy, has established a solid and sustainable partnership with the Petroleum–Gas University of Ploiești to organize internship programs. Over the course of three years, a significant number of students have completed training internships at AQUILA, and graduates who are recruited enter specific programs that contribute to building the foundation for a solid career and long-term professional development.
AQUILA supports diversity within the organization and is one of the largest employers in Romania, with approximately 3,000 employees and an internal promotion policy based on competence. AQUILA is also a significant contributor to the state budget, with over RON 15 million contributions annually to the social security budget.