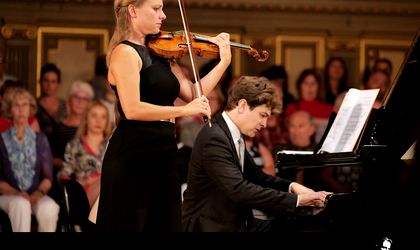 Concert and plays goers and lovers are part of one of the most impacted categories by the Covid-19 pandemic. Still, theaters, operas, musicians and organizers and trying to find the best way to help people remain in touch with their favorite artists, performers. Therefore, if you find yourself into that category, now you can find several options online, for free.
By Romanita Oprea
At an international level, the Paris Opera will be offering to the public its most beautiful ballets and operas to stream from its website for free. From 17 March, from Don Giovanni to Swan Lake and The Tales of Hoffmann, there are many great classics to see, rediscover and enjoy from the tranquility of your home. The full program can be found following this link: https://www.operadeparis.fr/.
A day after canceling upcoming performances due to concerns around the coronavirus, New York's Metropolitan Opera announced that it would stream encore presentations from the award-winning Live in HD series of cinema transmissions on the company website for the duration of the closure. The new offering began on Monday, March 16 with the 2010 HD performance of Bizet's Carmen, conducted by Met Music Director Yannick Nézet-Séguin and starring Elīna Garanča in the title role and Roberto Alagna as Don José. All "Nightly Met Opera Streams" start at EDT and remain available via the homepage of metopera.org for 20 hours. The homepage link will open the performance on the Met Opera on Demand streaming service. The performance will also be viewable on all Met Opera on Demand apps. More pieces of information and the full schedule can be seen here.
They are not the only examples. As shown by The Star, the Berlin Philharmonic gives a thirty-day free access to its entire library of performances. All one has to do is use the voucher code "BERLINPHIL" by March 31 at Digital Concert Hall; The Detroit Symphony Orchestra – DSO Replay allows listeners to stream past shows for free, while the Chamber Music Society of Lincoln Centre offer both live streams and past shows, available here. No sign up required. Moreover, the Seoul Philharmonic Orchestra live streamed its first concert on March 12. More online concerts from them can be found on their YouTube channel.
The Vienna State Opera is offering a different free opera each day and the Malmo Symphony Orchestra today's concert will be replaced by a live broadcast on the orchestra's streaming site. Mendelssohn's suite from A Midsummer Night's Dream will be performed by the orchestra alongside Mozart's Symphony No. 36 'Linz'.
More concerts streamed online from places such as Budapest, London, Osaka, one can find here.
According to theguardian.com, "the Social Distancing Festival, for example, is an online hub of video, streaming clips from rehearsals, filmed scenes, concerts and dancers – even `performers just doing the song they were really excited about, singing into their webcam`".
In Australia, the Melbourne Digital Concert Hall is a digital concert hall run by Melbourne musicians, for Melbourne musicians, to support the industry during the COVID-19 crisis. Their mission is to provide support for local artists to continue their profession with all ticket revenue going directly to the artist. In the coming weeks, it will be hosting a range of concerts and festivals online. Each will be performed once, at a set time, just like a regular recital and will be professionally streamed. 'Seats' will be sold online, to enable concerts to be watched live digitally. All ticket revenue is going directly to the artists. MDCH is a social enterprise underpinned by a vibrant Melbourne music scene. The programming will showcase the full spectrum of Melbourne artists who have lost work due to COVID–19. Moreover, Melbourne Digital Concert Hall will launch with an online music festival from March 27–29, featuring some of Melbourne's leading musicians, with a plan to hold multiple concerts each weekend throughout the coming months.
On Romanian soil, the George Enescu International Festival organizers offer the recordings' on last years' performances for free online, both from the festival itself and the contest with the same name. Every concert and recital will remain on the website www.festivalenescu.ro for four days. "We would like to send a message of support and compassion, inspired by George Enescu's values and behavior: in hard times it's good to be united and the music can be the liaison. Music heals the souls and the music lovers get tougher when they support each other," said Mihai Constantinescu, ARTEXIM's executive director, organizer of the George Enescu International Festival.
Last night, the famous Romanian rock band Vita de Vie launched its latest single "84-85 Muzica nu moare niciodata" (Music never dies) and video, through a streaming broadcast from Qreator. With this occasion, the band's members also offered their fans a small concert and explained the creation process of the single. Their initiative follows Trooper's acoustic concert and represents the beginning for more concerts online.
Photo: https://www.festivalenescu.ro/ / https://www.facebook.com/enescu.festival/