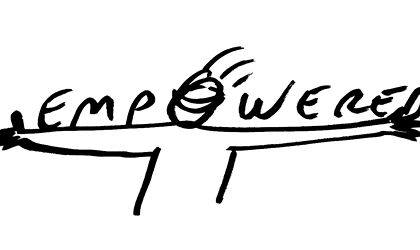 In the context of the COVID-19 pandemic, the organizers of the Sibiu International Theatre Festival (FITS) have decided to reschedule the 500 events that should have taken place in Sibiu this year for 2021. As they wish to stay close to the audience even through these difficult times, between 12-21 June 2020, FITS organizes an #online special edition themed "Empowered", which will fully be streamed online on the Festival's communication channels (Facebook, YouTube, website).
'We are going through times when our reality and our lives are being redefined. I hope that each and every one of you, those who have been with us for 27 years now, will get through this period. Our thoughts are with those who are directly affected by the COVID 19 pandemic, with the medical staff in the first line, with everyone whose life is affected, and we truly hope that we will all return to our normal lives in good health. (…)
For ten days, twelve hours per day, FITS will bring the audience an online stream including great performances representing the best of theatre, opera, dance, music, contemporary circus, by renowned artists, who have or will receive Stars on the Sibiu Walk of Fame. The Sibiu Performing Arts Market, Therme Forum, the meetings within the Doctoral Platform, FITS special conferences – these are events that will certainly be found in the programme of the #online special edition of FITS. All our events are designed and organized with our audience in mind, who have been with us for more than two decades. We are with you online and as soon as the situation allows so, we will bring the miracle of art back to the stages of Sibiu. I wish you all good health and hope to see you both online and offline!' Constantin Chiriac, President of FITS.
Don't miss today: Silviu Purcarete's Richard III for Tokyo Metropolitan Theatre streaming from 20.00 (Romanian time) on http://www.sibfest.ro/fits-online – free of charge. 
THEATRE | JAPAN | THE JAPANESE SEASON
RICHARD III
Tokyo Metropolitan Theatre
Directed by and script by: Silviu Purcărete
Set design and costumes: Dragoș Buhagiar
Music: Vasile Șirli
Cast: Kuranosuke Sasaki – lead actor
Toru Tezuka, Tomohiko Imai, Uemoto Junkome (Uemoto Junaratameme), Tomoharu Hasegawa, Takashi Yamanaka,, Makiya Yamaguchi, Kawachi Yamato, Tsuchiya Yuichi, Gaku Hamada, Sakurai Akiraki, Yasota Yuichi, Kenji Anan, YuSono Yoshiki, Haruhiko Jō, Misako Watanabe
SYNOPSIS
"Richard III" is a historical play by English playwright William Shakespeare and is the most exciting plays of all Shakespeare's works. It depicts the glory and fall of Richard III, who deceives and kills his enemies, allies, and even close relatives to obtain the throne. Established Japanese star actor, Kuranosuke Sasaki, performs the devilish hero, Richard III, and presents the glory and the descent of this character. Master of production, director Silviu Purcărete, should be called "Romania's Ninagawa" due to the complex artistic vision and stage creation where huge energies swirl. Purcărete, who fascinated Japanese audiences at the Tokyo Metropolitan Theatre with three performances, respectively "Lulu", "Gulliver's Travels" and "Oidip", directed for the first time a performance of Tokyo Metropolitan Theatre. A completely new "Richard III" created by a bold interpretation of the Romanian director explores at its fullest the spectrum of the 19 actors abilities.
COMPANY'S MESSAGE
"The lights of theatre never goes out. We hope to see you all in the theatre again sometime soon." – Tokyo Metropolitan Theatre
Date of premiere: 18 October 2017
Duration: 2h 20min
Performance in Japanese, with translation into Romanian and English. Performance not recommended to audiences under the age of 7.