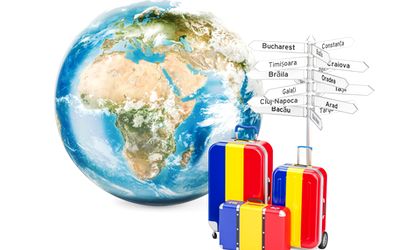 Romania is a large country in the region, but attracts few foreign tourists as poor infrastructure and services' quality keep many potential visitors away. However, some cities and regions have managed to become attractive to foreign tourists by using simple but effective ideas.
During the first half of this year, 1.27 million foreign tourists arrived in Romania, up 5.8 percent compared with the first half of 2017, according to official data.
But few regions in Romania are really attractive to foreign tourists. In fact, almost one out of two foreign tourists (45.7 percent or around 582,000 persons) has visited Bucharest, the capital city, in the first half of this year.
Bucharest is mainly visited by foreign nationals for business purposes but one part of them are also attracted there by cheap drink, food, clubs or casinos and some Communist-era oddities like the enormous People's House (today the siege of the Parliament).
Dracula myth
But beyond Bucharest, few regions are attractive to foreign tourists, and the top attractions are in Transylvania, the country's best brand and known worldwide as being the home of Dracula.
Today, two locations are linked to Dracula, and both are in Transylvania: the village of Bran, in Brasov county, and the city of Sighisoara, in Mures county.
The Bran castle, build by the old Saxon masters of Brasov to defend Transylvania from southern invasions, is not really historically connected with the Wallachian prince Vlad III, the source of Dracula myth.
But the city of Sighisoara, also a Saxon heritage, is historically attested as the birthplace of Vlad III, and the building where he was born could be visited for a fee.
Theese two Dracula-linked counties are among Romania's top tourist destinations, with almost 130,000 foreign visitors in the first six months of this year (88,536 in Brasov and 39,808 in Mures). Brasov alone is Romania's second top attraction to foreign tourists after Bucharest, according to official data.
Emerging Cluj
During the last couple of years, a new top tourist destination has emerged in Romania, and it is also located in Transylvania.
Cluj, the biggest and richest city in Transylvania, is now a top destination for young people from Romania and abroad due mainly to its well-known music festivals: Untold and Electric Castle.
In the first half of this year, 64,029 foreign tourists have visited the Cluj County, making it Romania's third top tourist attraction to foreign nationals.
At the other end of the scale, in some poor counties located in southern and eastern Romania, the arrival of a foreign national is a rare event.
Only 338 foreign tourists were registered during the first half of this year in Teleorman, a poor and rural county located in Southern Romania, and less than 1,000 foreign nationals were seen by the locals in other three counties (Vrancea, Botosani and Giurgiu).