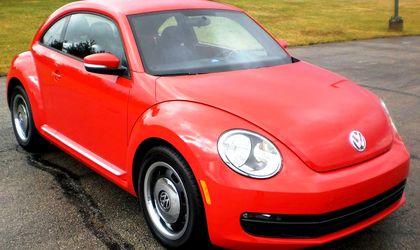 Volkswagen will end the production of Beetle next year after the last celebration models will come out of the Mexico plant. The consumers in USA and around the world turn to increasingly larger cars in the past years so the production of the iconic car is no longer feasible.
The German carmaker will produce a "Final Edition" Beetle series that will be available in convertible and hardtop, with prices starting USD 23,000 for a coupe and USD 27,300 for a convertible.
"The loss of the Beetle after three generations, over seven decades, will evoke a host of emotions from the Beetle's many devoted fans," said Volkswagen Group of America CEO Hinrich Woebcken, cited by BBC.
The car was originally designed in 1930s by Ferdinand Porsche at the request of Adolf Hitler who wanted a cheap and practical mass-produced car available for the German people. The production was halted by the outbreak of the war and took off in late 1940s. By 1955 a million of the cars were already on the streets of Germany.
In 1960s and '70s the car found international fame with the help of counter-culture and movies. The new Beetle re-design was made in the 1990s, model that sold 80,000 cars in USA in 1999.
In the first eight months of 2018, Volkswagen sold 11,151 Beetles, down 2.2 percent from the same period of 2017. US consumers that are looking for a small Volkswagen vehicle prefer the Jetta sedan or Tiguan SUV.