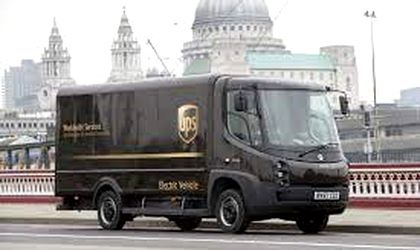 UPS will purchase more than 3,700 alternative fuel vehicles this year for use in the US and Europe. UPS has one of the largest and most diverse such fleets in the transportation industry, with more than 13,000 vehicles that use alternative fuels and advanced technologies. Currently, in Europe alone, UPS operates more than 300 alternative fuel vehicles.
UPS has a long history of developing, implementing and promoting alternative fuels to operate more sustainably. Since its inception in 2000, the UPS fleet of alternative fuel vehicles has traveled more than 4 billion kilometers globally. Last year, more than 590.5 million liters of alternative fuels were purchased, accounting for 26% of total fuel consumption for ground operations, up from 22% in 2020.
Since 2016, UPS has set clear sustainability goals to reduce carbon emissions and environmental impact and use more renewable energy in daily operations.
"About 60% of our direct emissions come from air activity and 40% from ground operations. Of that, most are from the fleet, while 10% comes from warehouses. Our major goal is to become carbon neutral by 2050. Until then, we have set another goal for 2025, which is to use 40% alternative fuels and 25% renewable energy in our facilities our. By 2035, the goal is to have 30% sustainable aviation fuel (SAF) in our airline and  a 50% improvement in carbon intensity per package moved," says Peter Harris, vice president of international sustainability at UPS.
According to estimates by the Hellenic Transport Institute in Thessaloniki, between 20% and 30% of a city's CO2 emissions come from last-mile deliveries from the warehouse to the customer's home. At the same time, a recent study by the consulting company McKinsey reveals that, without greening the logistics sector, carbon dioxide emissions could increase by 25% in some city centers by 2030, as a result of the explosive growth of e-commerce during the pandemic.
UPS is responding to these challenges by investing in advanced technologies, alternative fuels and fleet electrification. In Europe, UPS uses electric vehicles in its operations in Germany (over 50 electric vehicles), the Netherlands, France and the UK (34 electric vehicles). UPS has also committed to purchasing 10,000 electric vehicles from UK tech start-up Arrival.
Last but not least, UPS has studied and tested other alternative fuel sources, such as hydrogen.
"We used hydrogen in some tests in the US in April 2021 on package cars, and in Los Angeles we tested with heavy vehicles. We've learned a lot from that experience. There are some pros and cons to hydrogen. For a ground fleet there is clearly an advantage in terms of fuelling time and range – with a higher energy density compared to electric batteries – but there is also a big disadvantage as hydrogen fuel cells are less efficient than battery electric vehicles. From a pickup and delivery point of view, electric is leading now and hydrogen is still a long way off, but we remain open-minded. Hydrogen has great potential when it comes to parts of our global operations that cannot reasonably be electrified, such as aviation and shipping. That's where hydrogen can step in," adds Peter Harris.
UPS is committed to protecting the environment and making positive contributions in the communities it serves around the world to improve air quality and contribute to a more sustainable, efficient and even smarter urban environment through new technologies and alternative fuels sources.