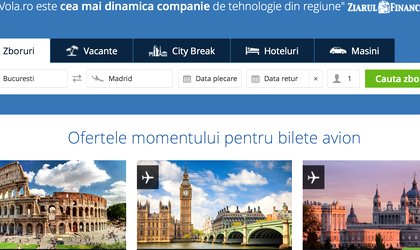 Romanians have been giving up on traveling abroad for Christmas or New Year this year, in favor of the national day long weekend, according to data from online travel agency Vola.ro. Reservations for the December 1 long weekend have doubled this year compared to 2015, say Vola.ro representatives. The reason why more Romanians are taking their winter holiday around the December 1 date is the fact that this year both Chrismas and New Year fall during the weekend, whereas November 30 and December 1 are public holidays.
Most of the bookings for the December 1 long weekend were made for the period November 30 – December 4, Romanian tourists choosing on average to book a 4-night long weekend, according to Vola.ro data.
The most popular destinations remain Vienna or Prague, both renowned for their Christmas markets, but also warmer European destinations such as Barcelona, Lisbon, Sicily, Sardinia and Cyprus.
"When looking at the most popular city break destinations among Romanians we can see that the market is maturing. We will never see interest go down significantly for European capitals, except in very particular cases and because of security concerns as was the case in Paris or Brussels. However, the fact that we see growth for less famous destinations means Romanians have evolved beyond a preference for tradition destinations ," said  Daniel Truica, Managing Partner Vola.ro.
The starting price for a city break is EUR 129/ person (flight ticket and three nights accommodation included in Venice and EUR 20 for a flight ticket to a European destination. Starting prices for Vienna are around EUR 299, EUR 329 for Barcelona and EUR 860 for Dubai.
Vola Romania posted an EUR 42.5 million turnover last year, up by 54 percent y-o-y.
Simona Bazavan