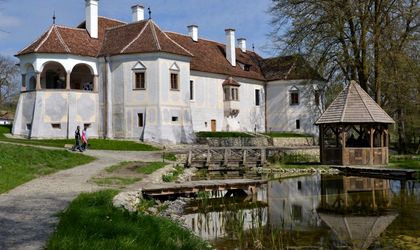 Six castles in Transylvania, located in Zabala, Miclosoara, Manastirea, Brancovenesti, Gilau and Toplita, are welcoming visitors this week-end, starting Thursday. The initiative is part of Private Patrimony Week, and will take place under the slogan "PIKNIK – Open Castles Week".
The first event will take place on May 24, at the Kornis Castle in Manastirea (Cluj County). During the day, various activities will take place with the participation of scouts in Gherla. Expect climbing, viking chess, cricket games, a photo exhibition, folk dance shows, classical and popular stage music, traditional crafts workshops, as well as plenty of activities for children.
Visitors can also join one of the two guided tours of the castle, at 3 and 5 pm, a cooking contest, a football game in the castle park, a popular harbor contest, as well as a picnic.
The Mikes Castle in Zabala (Covasna County) opens its doors to the public on May 26, starting at 10 am, and includes various activities for children and adults – treasure hunting, face painting, craft wool and plasticine activities, building cardboard castles replicas, Renaissance dance workshops and a picnic.
The next day, starting at 6 pm, the castle will host a violin concert by Belgian artist Rosanne Philippens, who will play, among other things, songs by Bach, Paganini, Bartok and Enescu.
The Rakoczy-Banffy Castle in Gilau (Cluj County) awaits its guests on May 26, starting at 10 am, with mother-baby interactive games based on games and popular songs, puppet games, handicraft workshops and manufacturing jewelery, a handicraft trade fair, and a guided tour of the castle between 11 and 12 am, followed by a picnic.
The Kendy-Kemeny Castle in Brancoveneşti (Mures County), open to visitors on May 26, starting at 10 am, holds, among others, outdoor activities for children, three guided tours at 12 pm, 1 pm, and 2 pm, a violin concert by Adam Tamas, a dance show offered by the Helikon Group in Brancovesti, a picnic and a painting exhibition from the Dr. Sandor Madaras collection.
The Kalnoky Castle in Miclosoara (Covasna County) will be open to the general public on May 26 and 27, with the two-day program offering car and pony rides, guided tours, exhibitions of Hassari layouts, treasure hunting in the castle park, of popular dances and picnics.
Urmanczy Castle from Toplita (Harghita County) awaits visitors on May 27, starting at 10 am, with children's outdoor games, a pantomime and puppet theater, guided tours organized in the languages Romanian and Hungarian, creative stone painting workshops, beading, quilling, treasure hunting, various skill games and a picnic.
The event "PIKNIK – Open Castles Week" is organized by the Castle Coalition in Transylvania, which joins the Private Heritage Week initiative launched by the European Historic Houses organization in Brussels.