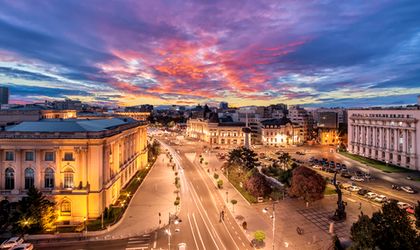 Are you thinking of travelling to Bucharest but you're not sure how much money you'll need for your holiday? BR has prepared a cost of living guide for a week in Bucharest, which includes everything from accommodation and transport to entertainment and leisure activities.
Whether you prefer conventional touristic activities like museums and other attractions or you're more of an independent explorer, you'll find the costs of a wide range of activities and facilities for a week-long holiday in Bucharest in our list below. Prices are in Euros, but keep in mind that you'll need to pay for things in the national currency (RON, or leu).
Accommodation (all within reasonable distance from centre)
Hostel: EUR 20-30/night
Hotel, 3*: EUR 30-60 depending on location
Airbnb apartment: EUR 20-50 depending on location
Transport
Bus: single ticket – EUR 0.28; day ticket EUR 1.72 (+0.80 for card)
Underground: single ticket – EUR 2.54; day ticket – EUR 1.72; week ticket – EUR 5.38; 10 journeys – EUR 4.31
Taxi (per km): EUR 0.36
Uber (per km): EUR 0.28
Rent a car: EUR 27/day for a VW Polo; EUR 38/day for a Ford Focus; EUR 70/day for a Land Rover Freelander
Fuel (per litre): EUR 1.20
Food & Drink
Fast food meal: EUR 3.5 – 5.3
Mid-range restaurant dinner for two: EUR 15-18
High-end restaurant dinner for two (including dessert and wine): EUR 30-35
Domestic beer: EUR 1.7-2
Imported beer: EUR 2.5-3
Coffee – EUR 1.1 – 2
Soft drink: EUR 1.5
Groceries
Groceries for one week for two people: EUR 45-65 (including meat, vegetables, fruits, dairy, rice, bread, eggs, oil, water, beer, wine, toiletries)
Utilities
Pre-paid SIM + internet (unlimited calls, international minutes, 10 GB data) – EUR 5
You can find free Wi-Fi in most places in Bucharest, but a monthly internet subscription usually costs less than EUR 10, at very good speed.
Sports, Leisure, Entertainment
Fitness club/gym day pass: EUR 5-8
Swimming pool day pass: EUR 6-10 (can be higher on weekends)
Cinema ticket – EUR 5.50-6.50
Tourist Attractions
Tour Bus ticket: EUR 5.40
Museums: EUR 2-5, some with free entry
Palace of the Parliament tour: EUR 7.50 (a bit more if you want to see the "hidden" parts)
Botanical Garden: less than EUR 2
You've probably noticed that Bucharest is generally cheaper than other European capitals, and it's certainly worth a visit! The best time of year to plan a trip would be in late spring or early autumn, when you'll usually catch the best weather.
Photo: dreamstime.com