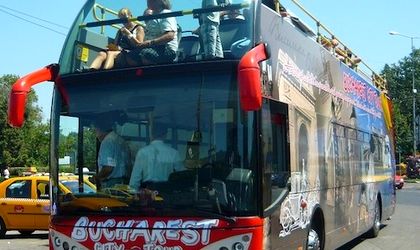 Tourists will be able to see the Romanian capital by riding the special double-decker buses starting June 1. The route of Bucharest City Tour will re-become operational at the start of summer, according to the public transit company RATB.
The four special buses will be available for tourists daily between 10 AM and 9 PM. The route will cover the center of the city, taking riders on the historic Victoriei Square, University Square and passing by the Arch of Triumph, The Village Musem and the Press Square.
Tickets can be bought directly from the bus at RON 25 (around EUR 5) a piece. Children aged 7 to 14 have to pay RON 10 per ticket, while those under 7 years old can ride the bus free of charge. Tourists can also use special vouchers from hotels and tourism agencies to get on the bus.
The line is open by October 15.