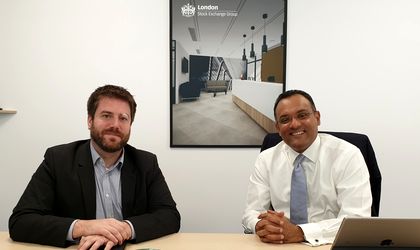 London Stock Exchange Group came to Romania in April this year and announced that it will open an office in Bucharest. LSEG is the administrator of the Stock Exchange in London and it is setting up a technology and operations hub in the Romanian capital.
"Providing services to the group and to our clients across the world" is the Bucharest office's main goal. According to the statement, they are focusing on Intellectual Property, Risk and Balance Sheet Management and Capital Formation.
The offices will be in Campus 6, near the Polytechnic University, in a space developed by Skanska, but the company has rented an office in Berceni until the new space is ready.
"For the first 3-4 months we just got established here and the first new colleagues came in five or six weeks ago. We are just shy of 50 people right now and we will have around 100 by the end of the year and 200 by the end of 2019", David Robinette, senior HR Business partner at the Group COO office in Bucharest, told Business Review.

"We have chosen Romania from a group of 14 countries. It is a good place for professionals, with people close to Western Europe, and it's also a Latin-language country. We had a very good feeling when our managers started the process of hiring and they were really impressed with the people here," said Dee Liyanwela, head of Business Services Limited, Sri Lanka and Romania, for Business Review.
"It is amazing that you can find technologies here that are not available even in more developed countries, like those used for the building we are about to move in, where they use geothermal technology," said Liyanwela.
The Romania hub comes after the company decided to have strategic centers around the world in order to cover the round-the-clock business in the group's financial market.
"We have 46 offices around the world, all strategic hubs. We started in Asia, where we have 650 people now, we're also in the USA, and the next place we looked at was Europe. So the Romanian office will be a part of a global, shared operational hub. There is a lot of potential for new technologies like Artificial Intelligence, Natural Language Processing, Machine Learning and others; we are very keen to do that sort of R&D (research and development) here," said Liyanwela.
Another thing that will be done in Romania is "information services", meaning data collection and analytics. The team will also provide support for the global infrastructure. "Those are our plans for Romania, the main goals. We said that we want 200 people in our team by the end of 2019, but it does not mean that we won't continue to grow after that; there is no limit. We started the operations in USA at the end of 2016 with 180 people and now there are 650," Liyanwela explained, noting that we have the same potential here in Romania.
As for the hiring process, "we knew that the field is very competitive, so we prepared ourselves to be different," says Robinette.
"We offer a career, not just a job. With offices around the world it is clear that you are here to build a career", says Liyanwela.
Romania should take the example of Singapore in terms of developing its financial market and becoming a financial hub in the region. "You have the potential to do that, to become a regional hub, just like Singapore did 25 years ago, and we are here to help if counsel is needed", says Liyanwela. "You can leap-frog with today's technology and grow faster."
"We had all the help we needed from the authorities, we have nothing to complain about", says the official when asked about the business climate. And the fact that we have "more advantages than disadvantages" should be a point in favor of future development in all areas.
Brexit will not have a significant impact on LSEG's business since the company is present in many European countries. Moreover, the City of London, the UK's financial heart, is a financial center for the global economy and that is not going to change too easily.
When talking about the new technologies, Dee Lyianwela gives a very simple example: "If you have a fax machine, but no one else has one, it is useless. It is the same with any new technology; unless they are used globally and by many companies, it does not matter how good they are, they are useless."
Of course, that does not mean that LSEG is not working on new technologies. "We look at AI as Augmented Intelligence, not Artificial Intelligence. In the financial markets and the processes we have it is very difficult to replace a human, but you can improve their work with AI", says Liyanwela.
The Distributed Ledger Technology will definitely have a future "because it is clearly an advantage to be able to make a transaction in an instant."
"Global finance is more global and extended than it was once and it is really hard to go back to the days of national protectionism these days. No matter how enclosed you are, you need to do transactions globally in order to have success", says Liyanwela.
About the Digital Revolution:
"eGovernment is very important and is one of the main fields of digitalization that should be adopted. If the government puts all the interactions between people and officials online, the time needed for those meetings disappears and that gets translated into a growing GDP; the second important thing of eGovernment is that the state becomes a buyer of technology and solutions and it helps those sectors a lot, especially if they buy it from local companies," says Liyanwela.
About the Bucharest Stock Exchange (BVB):
"We are talking with BVB and we are offering help when needed. BVB has a good opportunity to expand and become a regional hub for things like agricultural products, with futures and other instruments. I know they're already trying to become a CCP (central counter-part) for transactions and that is a good thing. The potential is there, you just have to tap it," says Liyanwela.