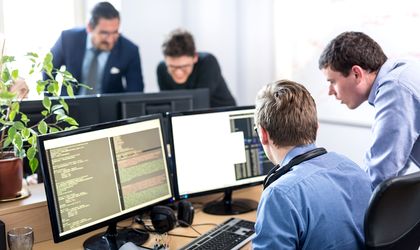 BestJobs has released its Top employers in 2018, an annual ranking based on evaluations by more than 100,000 employees of the companies listed on the recruitment platform.
The platform has ranked employers based on the evaluations of their own employees. Specifically, Romanian employees have awarded a grade between 1 to 5 (satisfaction levels) regarding the companies they work for, and the voting criteria took into account the degree of satisfaction in the workplace, the likelihood that the employee recommends the company to a friend and the employee's intent to change their job in the near future (6 months – 1 year).
Vodafone Romania, OMV Petrom and Banca Transilvania take the first spots in the ranking, as they are among the most highly appreciated companies by their own employees.
Vodafone climbed 9 spots compared to last year, while the IT sector has lost ground to financial institutions. Banca Transilvania had a remarkable climb, having reached the third spot, which last year was taken by Orange Romania.
The top 10 also includes ING Bank as well as retailers Auchan, Altex and eMAG, as well as BPO company Arvato Services.
MAPN (the Defence Ministry) and INCAS (the National Aerospatial Research Institute) are two public institutions that have made it into the top 10.
Top employers in Romania in 2018
Vodafone Romania
OMV Petrom
Banca Transilvania
Auchan
eMAG
Arvato Services
ING Bank
MAPN
Altex
INCAS
Kromberg & Schubert Romania
Carrefour Romania
BRD Societe Generale
Nestle
Schaeffler Romania
Michelin Romania
British American Tobacco
IBM
Robert Bosch Romania
Orange Romania