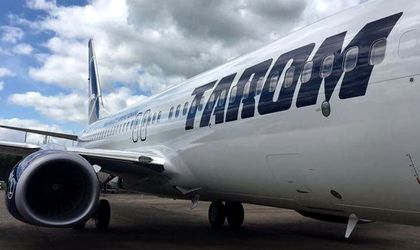 TAROM is planning to buy a new aircraft for its fleet, destined for the ultra-premium segment, according to company officials. The aircraft will be a small plane, up to ten seats, capable to fly across the Atlantic ocean.
"We are surveying the market to see if we can integrate in our fleet an aircraft dedicated to a special segment of the market, the ultra-premium segment. It will be a new aircraft, up to ten places, customizable, capable of flying across the Atlantic, equipped with the latest technology available on the market," said the representatives of the company.
Recently, TAROM has signed a contract for the acquisition of five of the best Boeing planes, signing a firm order at the Farnborough International Airshow, the aerospace event of the year in Europe. TAROM and Boeing signed a 737 MAX 8 aircraft takeover agreement on July 16.
The model is one of Boeing's best-selling, the five 737 MAX 8 aircraft that will enter TAROM, being built specifically for this contract. The 737 MAX 8 aircraft incorporates the most advanced Boeing technology and the newest CFM International LEAP-1B engines. They also feature the Boeing Sky Interior, which offers several compartments and other amenities to enhance passenger comfort.
TAROM – The Romanian Air Transport Company – was established in 1954, operates under the authority of the Ministry of Transport and is a member of the SkyTeam Alliance on 25 June 2010. The national company operates over 50 destinations and destinations served by the partner code. The carrier of Romania owns one of the youngest fleets in Europe, made up of 25 aircraft and is a member of the International Air Transport Association (IATA) since 1993.