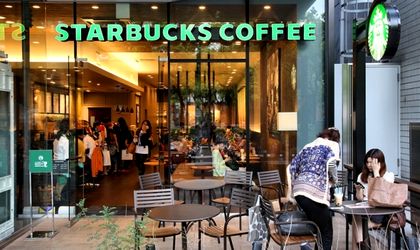 Globalworth, the office building investor, has signed a Starbucks lease agreement to open a café in Tower 1 building in the Globalworth Campus office complex.
"When developing a project, besides working spaces designed according to the personality of our tenants, we also intend to offer them a number of facilities in the immediate vicinity of the office, thus enhancing their comfort. We are completing the Globalworth Campus retail offer today with a new Starbucks café, one of the most beloved brands in Romania, to be inaugurated by the end of this year," said Ema Iftimie, head of Leasing at Globalworth.

"We are delighted to bring Starbucks experience together with Globalworth to the tenants of the office complex named after the most important real estate investment firm. We look forward to welcoming our customers into the new, unique, natural design, top-quality arabic coffee, prepared by passionate, experienced baristas. We are convinced that Starbucks will soon become a meeting point for entrepreneurs, business partners, a source of inspiration for projects, and a place to relax with colleagues after a busy day," added Karol Zuradzki, Regional Director Starbucks Romania, Bulgaria and Serbia.
The new Starbucks cafe in Tower 1 will have 200 square meters and the opening is scheduled for the last quarter of this year. Also, the first office building in the Globalworth Campus will integrate a Stradale restaurant, created by Chef Foa alongside the Flavours team, which will bring a new concept to the local urban jungle on an area of ​​over 600 sqm.
The Tower 1 building on Dimitrie Pompeiu Boulevard was completed in July 2017 and offers an area of ​​29,000 square meters, leased to Amazon, Mindspace and Honeywell. The second tower of the project, Tower 2, was delivered in April 2018, offering an additional surface of 28,000 sqm. The tenants who will work here are Stefanini Romania, Mazars Romania, Chain IQ and P4Cards.
The third building in the Globalworth Campus, Tower 3, is currently under construction and will have a total rental area of ​​approximately 35,000 square meters. The entire office complex benefits from 760 parking spaces and by the end of next year the project will integrate one of the largest conference centers in Bucharest, developed at the highest standards existing on the market. Globalworth Campus is in the process of obtaining the BREEAM certification.